Fighting Back Against Critical Race Theory
From the article, The Fightback Against Critical Race Theory - American parents have had enough of this divisive ideology being imposed on their kids, by Sean Collins, Spiked / Lew Rockwell, July 12, 2021:
Across the US, parents are protesting against the implementation of new school lessons informed by critical race theory (CRT). Videos of parents passionately speaking up in opposition at school-board meetings have gone viral. At a recent meeting, the school board in Loudoun County, Virginia, heard a range of criticisms. 'You're teaching children to hate others because of their skin colour', said retired senator Dick Black. Xi Van Fleet, a woman who survived the Cultural Revolution in Mao's China, said the CRT lessons, with their emphasis on personal guilt, reminded her of those dark days....
Media commentary on the parents' protests has been dismissive and condescending....
Mothers and fathers have seen the lessons their kids are bringing home in their backpacks. Many of them got a closer look as their kids did their school work at home during the pandemic....
What often takes parents aback is the scope of CRT in schools....
Related
Learn more about Critical Race Theory - CAIRCO Research.
7 Ways The Conservative Movement Should Fight Critical Race Theory, The Federalist, August 4, 2021:
1. Counter the Unions with a Litigation Army.
2. Vote Against All Nominees Who Support Disparate Impact Racism
3. Make Effectively Opposing CRT a Litmus Test for Office
4. Pressure Elected Officials with Ads and Primaries
5. Map the CRT-Enabling Policies to Destroy
Mark Levin: Fight Back Against CRT with Classroom Cameras, Breitbart, July 23, 2021. "Mark Levin, author of American Marxism, advised the use of cameras in classrooms to monitor teachers in response to the inclusion of Critical Race Theory in public school curricula."
Critical Race Theory Implicitly Taught in Schools: 'Moms of Liberty' Activist, Epoch Times, July 22, 2021.
Illinois Teacher Sues District, Claims "Anti-Racist" Curriculum Teaches That Whites Oppress, Violates Constitution, by Isabel van Brugen via The Epoch Times, Zero Hedge, July 11, 2021.
Mom Says School Board Threatened to Sue Her for Seeking Public Information on Critical Race Theory in Curriculum, Daily Signal, July 9, 2021.
Teachers Unions Push Critical Race Theory in Schools, Urge Defiance of State Laws Against It, Daily Signal, July 9, 2021.
The end of Critical Race Theory, American Thinker, July 12, 2021.
A Teacher's Union is Suing a Mother For Repeated Attempts to Know What Her Kindergartener is Learning, Townhall.com, August 8, 2021.
Parents Want ADL's Leftist Partisanship Out of San Diego Public Schools, Legal Insurrection, August 14, 2021.
eBook: Weaponizing Our Schools: Critical Race Theory and the Racist Assault on America's Students, by Richard L. Cravatts, Ph.D. Review: Weaponizing Our Schools, FrontPage Mag, October 20, 2021.
Video: Derrick Wilburn, District49 School Board meeting, August 12, 2021:
De-CRT Your School, Townhall.com, July 23, 2021.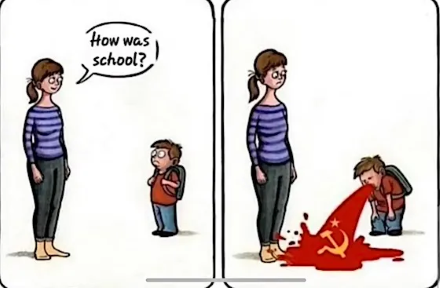 Perverting "Civics", by Kenin M. Spivak, American Mind, 30 April 2022.
Like a creepy neighbor, State Farm Is there - If you're still using State Farm to insure your car or home, you might want to rethink it. 25 May 2022.
Book: Splintered: Critical Race Theory and the Progressive War on Truth, by Jonathan Butcher, 2022: "Any American who believes that 'this too shall pass' is not paying attention."
Parents Need to Know Their Rights to Reclaim America's Schools, by Rob Bluey, Daily Signal, 18 July 2022.
Parent Sues School Over Transgender Brainwashing - Proselytizing California groomers are running wild, FrontPage Mag, 18 August 2022.