What is Trump doing, what is he not doing, and why?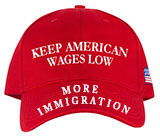 Starting with his 2019 State of the Union address, President Trump has adopted a position of promoting more immigration. That means more foreign workers who will depress American wages and displace American workers.
Why?
It seems that Jared Kushner has been meeting with the Koch brothers and that Trump is kotowing to the open borders, cheap labor business lobby.
Read more regarding Trump's about-face and the dire consequences for America: President Trump reneges on "America First" campaign promise.
This analysis puts things in perspective: Does Trump Really Want "Comprehensive Immigration Reform"? What Does That Mean?, by Washington Watcher, VDare, March 29, 2019:
... Trump has always been erratic on immigration. He talked about "comprehensive immigration reform" in the past. He considered introducing such a bill in his first months of office....
But what could he mean by "comprehensive immigration reform" now? Pre-Trump, it meant Amnesty for all illegal immigrants plus a massive increase in legal immigration. Trump became the Republican nominee campaigning against that idea and has always insisted on his opposition to Amnesty. While Trump has occasionally suggested Amnesty for illegal aliens who came to the U.S. as minors—the so-called Dreamers—in exchange for patriotic immigration reform, he has never proposed legalization for the majority of illegals.
According to some Trump World figures, "comprehensive immigration reform" now means increasing legal immigration without Amnesty. That's the impression left by a recent op-ed from David Bossie, who was (for a while) a top aide on the Trump 2016 campaign.  [An 'America First' immigration policy looks like this, Fox News, March 24, 2019]...
But all of the studies Bossie relies on come from long-time immigration boosters, such as Trump's chief economist Kevin Hassett....
... Bossie argues there are not enough Americans for these high-skilled jobs. It appears he missed the Council of Economic Advisors' report that said there are still too many American citizens out of work. [White House Economic Staffers Suggest No Need for More Immigrant Workers, by Neil Munro, Breitbart, March 19, 2019]....
These comments by Sekulow and Bossie must disturb immigration patriots. But they should not be treated as the final word on Trump immigration plans....
Trump seemed to be making a call to increase skilled immigration a part of his typical stump speech... His son-in-law Jared Kushner is still in talks with business interests and pro-Amnesty Conservatism Inc. groups to craft immigration legislation. That proposal will reportedly increase guest worker visas. What else it will do is unknown. It is set to be revealed in early summer. [Trump befuddles his allies with ambitious legislative agenda, by Andrew Restuccia, Heather Caygle and Anita Kumar, Politico, March 28, 2019]....
Kushner seems to support Amnesty, which does increase the chances Dreamer legalization would be included in the White House proposal. Acting White House chief of staff Mick Mulvaney has supported Amnesty in the past, but he appears more focused on healthcare right now....
Current events could also influence Trump to back off his comprehensive immigration reform and return to immigration patriotism. All it would take is one massive caravan to show up on Fox. Or another terrorist atrocity.
Trump may seem to have lost sight of his America First agenda at the moment. But no-one can say... that... he won't rediscover it again.
Here's a secret: Trump has power to end judicial amnesty TODAY under CURRENT law, by Daniel Horowitz, Conservative Review, April 19, 2019:
A Unanimous Senate Voted to End Lawfare in Immigration Two Decades Ago

In 1996, sensing a growing trend of litigation against deportations, Congress clarified unambiguously in The Illegal Immigration Reform and Immigrant Responsibility Act of 1996 ("IIRIRA 96") that any illegal not seeking discretionary relief of asylum must be immediately placed into "expedited removal" unless he or she has a claim of being a citizen or holding a green card. Section 235(b)(1)(A)(i)(iii) of the Immigration and Nationality Act stipulates that whenever an immigration officer determines that an alien is inadmissible, "the officer shall order the alien removed from the United States without further hearing or review unless the alien indicates either an intention to apply for asylum under section 1158 of this title or a fear of persecution."
That is to say that not only is every illegal alien ineligible to access the courts, they are not even entitled to a hearing in front of an administrative immigration judge. Period. So right off the bat, putting aside the debate over credible fear and asylum law, every other illegal should be immediately deported. A total of 30,555 single adults were apprehended at the border in March of this year plus another 6,168 were deemed inadmissible at points of entry, very few of them having even asserted a bogus credible fear claim. Why are they not all being deported within hours?
But it goes deeper than that. How far does expedited removal go? Congress intended for the executive branch to use it for every single illegal not only caught at the border, but caught in the interior within two years of entry. Yes, you heard that right....
The Laws Aren't Broken, They're Just Ignored

This entire process is operating under the normal governing statutes assuming we continue to offer asylum. Of course, the president has unlimited inherent Article II and delegated statutory authority to shut down all forms of immigration requests and deny entry to anyone at any point [no matter how they stepped foot on our soil] and return them for such period as he deems in the national interest [8 § U.S.C. 1182f]....
The Center for Immigration Studies has compiled a list of 90 executive actions on immigration that any president could take. For example, his recommendation to change the regulation currently restricting the scope of expedited removal corresponds to #66 on the CIS list. Yet Trump has not implemented 75% of the items on the CIS list.
Revisiting 'A Pen and a Phone': A Midterm Assessment, Center for Immigration Studies, January 30, 2019:
... In April 2016 — before it was clear that Donald Trump would be the next president — we published "A Pen and a Phone: 79 immigration actions the next president can take". Our Backgrounder was a guide to actions that we believed could, and should, be done to re-set the pendulum of immigration policies after its dramatic swing toward leniency and laxity during the Obama years. Most significantly, it outlined actions that might legally be taken (unlike the constitutionally dubious and extra-statutory DACA and DAPA programs) without need to rely on legislative actions by Congress — a dubious proposition in the best of times....
Conclusion

In wrapping up this assessment of progress toward the steps we identified in our original document, it's important to say a few things.
First, we have deliberately resisted the temptation to assign report-card-style scores either to any particular item or to the overall efforts. Doing so would have been both inappropriate and facile, given the scope and complexity of the issues we've raised. This brings us to the second point:
Readers, seeing many of the "No steps have been taken" observations, might be tempted to draw an adverse inference toward this administration's efforts to reform the immigration system for the better. We encourage you, instead, as we have, to consider the complexity of the issues, and the many years it took, over several administrations, for things to fall into such dysfunction, from unwise policies or indifference. It's tempting, but inaccurate, to impute all blame to the Obama White House. That administration was simply the tipping point in the years-long decline of a well-functioning immigration control regimen. That is why efforts at re-instilling integrity and rigor into the system will be years in the making. Rome wasn't destroyed in a day; it won't be re-built in a day either.
Third, it would be premature to assess progress to date due to the inordinate number of lawsuits filed by organizations, and even states and local governments, determined to block every effort at immigration enforcement and compliance. Readers cannot help but have seen, in perusing this document, that virtually every step that the administration has taken has resulted in litigation, and in all too many cases issuance of nationwide injunctions by U.S. District Court judges while the litigation plods onward and upward through the federal judiciary — a state of affairs that we find alarming and injurious to a judicial system, one of whose main strengths is to allow different outcomes to percolate through the district and circuit courts so that the Supreme Court may better provide constitutional and statutory guidance after reviewing a range of outcomes...
Kushner is considering increasing the number of migrant workers allowed into the country while simultaneously reducing the number of family members that U.S. citizens and legal permanent residents are allowed to sponsor. That would have a net zero effect on overall immigration levels....