China Reopens Wet Markets with World Health Organization's Blessing
Article CAIRCO note:
Oh great - more Chinese eating dogs, cats, and bats
Article Body:
China's notorious "wet markets," the open-air wildlife slaughterhouses that were supposedly the mechanism for the Wuhan coronavirus jumping from animals to humans, are back in business with the approval of the World Health Organization (WHO).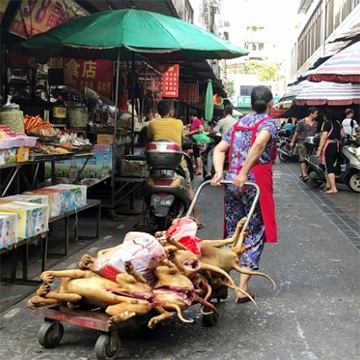 The WHO seal of approval stunned government officials and health experts around the globe.
Chinese state media outlets were delighted to announce the ostensibly "sanitized" wet markets are open again in provinces across China – including Wuhan, epicenter of the global pandemic that killed thousands of people and inflicted trillions of dollars in economic damage. According to the state-run Global Times, some of the wet markets never closed at all...
In the United States, White House task force leader Dr. Anthony Fauci is among those who have called for an end to the wet markets.
"It boggles my mind how, when we have so many diseases that emanate out of that unusual human-animal interface, that we just don't shut it down. I don't know what else has to happen to get us to appreciate that," Fauci said....