Crime Spikes: Mike Lindell Shows Real Evidence of Election Fraud
Article Body:
Mike Lindell and his group of researchers show massive spikes up and down in vote counts coming from many different races in the 2022 midterm elections. The spikes always favor the Democrat candidate. This evidence cannot be ignored.
Reporting live, using data from the Edison Report, the first spike we see is in the race between Warnock and Walker in Georgia. It has the familiar "F" shape that we saw in the 2020 Election: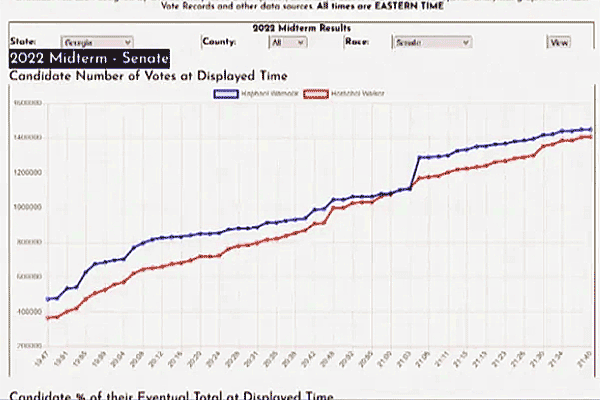 In the Fetterman-Oz race, Fetterman had a backwards "F" from vote dumping, when he lost 100k+ votes from one moment to the next, which Mike says is impossible and he thinks it probably had to do them correcting the steal algorithm, because it was too blatant.
In the governor race between Mastriano and Shapiro in Pennsylvania, the same thing happened there, too. The algorithm was set too high and they auto-corrected it too abruptly so as to subtract 90,000 votes....
The Gateway Pundit reported large batch injections into the Michigan Governors race last night (as seen in 2020), which gave the race to Gretchen Whitmer...
At least 20% of all the machines were not working throughout Maricopa County, Arizona. In Luzerne County, Pennsylvania, officials say that roughly 44 polling locations ran out of paper to print ballots.
It's not a coincidence that the machines went down in the red precincts of Maricopa County to disrupt voters for Kari Lake and Blake Masters or that they went down in Suffolk County...
She [Tore Maras]  suggests that we all send FOIA requests to our Secretaries of State and ask them, who owns that optical scanning data? They are mining our private identifying information and how we vote without our consent and who, exactly collects and profits off the optical scanner data?
Why would Konnech be shipping such data to China?
The answer is to be able to penalize you when they bring in the digital currency and social credit score....
The military paid Konnech millions of dollars to do just that....
In the film, ShadowGate, Tore explains how General Jones took the Shadownet software that had been developed to be used against the enemy during the War in Iraq and he turned it into the ClearForce technology that has now been turned against the US population....
The First Wholly Manufactured Election