Democrats to Vote on 6 Gun Controls That Wouldn't Have Prevented Uvalde Attack
Article CAIRCO note:
Second Amendment infringement seems quite popular in Congress
Article Body:
Democrats in the House Judiciary Committee will hold a vote on a gun control package Thursday which includes six gun control measures that would not have prevented the Uvalde attack.
The package is titled the "Protecting Our Kids Act."
Punchbowl News reports that the package contains eight gun controls. Six of those gun controls would not have prevented the Uvalde attack.
Those six include background checks for "ghost guns," gun storage requirements for homes with minors present, additional penalties for gun trafficking and straw purchases, a bump stock ban, and a requirement that existing bump stocks be registered under the auspices of the National Firearms Act...
"Rights are not absolute and when we take them away, we aren't taking away your rights." - Joe Biden. Incredible.
Contrary to what the Biden regime wants you believe, the Second Amendment is settled law. It is not up for debate as would be a law being discussed in Congress. Quite simply: "... the right of the people to keep and bear Arms, shall not be infringed."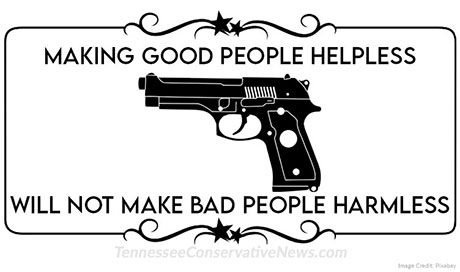 More articles on Second Amendment infringement at Breitbart.
Canada's Crackdown on Guns Sounds a Warning for Us, Daily Signal, 3 June 2022:
In Canada, Trudeau said, there is effectively no right to own a gun. Firearms are only for sport, he said, a privilege.
And now the government is using the shooting in Texas to take that privilege away, to disarm the populace entirely....
This may be true as a matter of positive law. Canada has gone much further in banning guns than has the United States. Gun confiscation isn't far off. It's the logical conclusion of the idea that all deaths attributable to guns are preventable, and any law or right preventing it is illegitimate.
But the notion that firearm ownership is a "privilege and not a right" for Canadians, as opposed to Americans, is incorrect. It is a right, just not one protected by the Canadian government. That's an important distinction.
The Second Amendment to the U.S. Constitution didn't create the right to bear arms, just as the First Amendment didn't create freedom of speech....
The Second Amendment protects an individual's right to protect himself and the larger community. In addition, it was created to ensure that the federal government wouldn't have the ability to disarm citizens en masse...
Gun Control Misfire: Trudeau Pistol Ban Sees Stores Sell Out of Handguns, Breitbart, 6 June 2022.
Joe Biden, America's Greatest Gun Salesman, by Roger L. Simon, Epoch Times, 3 June 2022:
... the original impetus for the Second Amendment, not surprisingly omitted or ignored by Biden in his speech, was not for hunting or even for home defense against criminals, least of all for target practice.
It was to protect the citizen from an oppressive government, something the Founding Fathers knew all too well from their experiences with the British.
Ours is allegedly a government of, by, and for the people. It behooves us to be armed against an increasingly more powerful force that is able to track our every move, if not our every thought....
Of course, we all know where gun restriction leads—gun confiscation. Just ask Beto O'Rourke. And yes, we've seen it all before....
The Struggle Against Tyranny Is Endless, by Lee Smith, Epoch Times, 4 June 2022.
Slippery Slope: Bipartisan Gun Deal Announced: No 'Assault Weapons' Ban, No Raised Minimum Rifle Age, Breitbart, June 12, 2022:
BIPARTISAN GROUP OF SENATORS ANNOUNCE AGREEMENT
WASHINGTON–U.S. Senators Chris Murphy (D-Conn.), John Cornyn (R-Texas), Thom Tillis (R-N.C.), Kyrsten Sinema (D-Ariz.), Richard Blumenthal (D-Conn.), Roy Blunt (R-Mo.), Cory Booker (D- N.J.), Richard Burr (R-N.C.), Bill Cassidy (R-La.), Susan Collins (R-Maine), Chris Coons (D-Del.), Lindsey Graham (R-S.C.), Martin Heinrich (D-N.M.), Mark Kelly (D-Ariz.), Angus King (I-Maine), Joe Manchin (D-W.Va.), Rob Portman (R-Ohio), Mitt Romney (R-Utah), Debbie Stabenow (D-Mich.), and Pat Toomey (R-Pa.)
The Democrats' Politicized Gun Control Script - There's far more at stake than gun-control laws, by Bruce Thornton, FrontPage Mag, 13 June 2022.
 
Recommended reading: Rethinking the Second Amendment - Can We Indeed Have Peace and Freedom Without Guns?, by Dr Naomi Wolf, 4 June 2022.