How Trump is really changing immigration: Making it harder for people to come here legally
Article CAIRCO note:
The CATO Institute pays lip service to immigration enforcement, while pushing for ever more immigration
Article Body:
... Here's an overview of key ways Trump has made it more difficult and expensive to come here legally for foreign students, skilled temporary workers, green cards holders, refugees and others.
H1-B visas
The Trump administration has piled new compliance rules, documentation requirements and other regulations on H-1B visas. These changes make it much more costly for employers to use H-1B visas to hire skilled foreign workers, which is a likely reason that applications dropped by 20 percent from 2016 to 2018....
H4 visas
The Trump administration announced plans to take away work permits from those with H-4 visas — the visa for spouses of H-1B workers....
Foreign students
The number of foreign students at U.S. universities was down about 17% in 2017 and likely will fall further this year....
Refugees
Trump temporarily halted the entire refugee program last year, claiming that terrorists would get into the country masquerading as refugees. It started up again for most countries, but Trump precipitously cut the number of refugees the U.S. will accept....
Muslim ban
Preventing terrorism was the reason given for Trump's so-called Muslim ban, an executive order that limits or altogether bars visas for citizens of several Muslim-majority countries, North Korea and Venezuela. ...
'Extreme vetting'
Last year, former Secretary of State Rex Tillerson ordered additional security screenings for all immigrants and visitors seeking visas...
Asylum
The administration has directly and indirectly hampered the ability of foreigners to ask for asylum in the U.S. For instance, it cut the number of visas issued to Venezuelans by as much as 74 percent relative to 2013. ...
Temporary Protected Status
In a string of announcements over recent months, Trump has said he'll end Temporary Protected Status by 2020 for about 437,000 migrants mostly from El Salvador, Honduras and Haiti. TPS allowed them to stay here legally after natural disasters struck their home countries. ....
Trump campaigned that he would take steps to grow the economy by 3 percent per year or more. To that end, he's cut taxes and slashed regulation. But he needs legal immigrant entrepreneurs, investors and workers to keep expanding economic growth — especially with unemployment now below 4 percent. He won't make America great again without letting in more legal immigrants.
CAIRCO Notes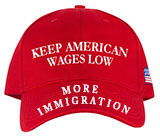 Here we go again. The CATO institute pays lip service to Trump's accomplishments, while concluding that America needs more foreign workers to undercut American wages.