Not Looking Good—Trump Attacks Coulter, Congressional GOP Cucking On Immigration
Article Body: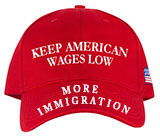 Fox Business host Lou Dobbs on Wednesday criticized President Trump abandoning his America First campaign pledge to restrict foreign workers and said he fears his administration has "lost its way."
See, earlier by Ann Coulter: Trump's Failing On Immigration. Don't Ask Me To Lie About It
Three weeks ago, after Donald J. Trump abandoned the government shutdown and declared a national emergency to get some funding for his border wall, I asked: Did Trump Save His Presidency? Maybe—IF He Doesn't INCREASE Legal Immigration. 
Unfortunately, and incredibly given his campaign promises, Trump has repeatedly said since then that he has indeed pivoted to increasing legal immigration—reportedly under the influence of his daughter and son-in-law, Ivanka and Jared Kushner. Trump may still be saved by the Party of Hysterical Screeching's inability to accept even victory (because increasing legal immigration would be demographic victory for them) at his hands. But in the interim, without Presidential leadership, it appears likely that the Congressional Stupid Party will not take up the various measures that could stem America's immigration disaster—above all, the Merkel-type catastrophe now unfolding on the southern border.
Weirdly, Trump abruptly attacked Ann Coulter, one of his earliest and most eloquent backers, on Twitter Saturday night, perhaps signaling he is repudiating the immigration patriotism he won on—or perhaps that he knows Ann is right:...
The RAISE Act would halve America's yearly immigration intake and structure our system to be more "merit-based." It would also cap annual refugee numbers at 50,000 and eliminate the diversity visa lottery. The bill was introduced by Sens. Tom Cotton and David Perdue with Trump's backing in August 2017. But (again, despite GOP control of Congress) nothing happened.
If Trump wants to show he still puts America first ahead of 2020, he could resurrect the RAISE Act. There is no chance it would pass, but it would force Republicans to run on the plan and win the seats necessary to pass it in Trump's second term.
These are some positive things Trump and Republicans can do. Whether they choose to do them is up to them.
It's not looking good.
Related
Take It Easy, Ann, and Train Your Fire Elsewhere, by Ed Morrow, American Greatness, |March 17, 2019.