Trump orders alien biometric IDs, dump 466,000 Obama green cards
Article Body:
President Trump ordered biometric ID cards for all non-immigrant work visas and is moving to dump Obama's Executive Order expanding
H-1B green cards
by 466,000.
Donald Trump's first initiatives as president was issuing the "Buy American and Hire American" in April 2017 that instructed the U.S. Immigration Service to drastically restructure the job-destroying H-1B "temporary foreign worker" program.
Republican President George H.W. Bush joined Democratic Senator Ted Kennedy to pass the
Immigration Act of 1990
that expanded U.S. foreign worker visas, implemented family-chain-migration, and launched the H-1B "specialty occupations" visa program.
The so-called "Einstein Visas" program was designed to allow employers having difficulty hiring enough skilled U.S. college graduates, to temporarily sponsor "green card" work visas for up to 85,000 foreign college graduates. But Silicon Valley tech giants used low-cost
H-1B foreigners
to dump higher-paid American employees. When
H-1B temporary workers'
visas expire, many fail to return home and just keep working....
All alien biometric templets will be made available online for immigration agencies to identify and authenticate the legal status of all temporary H-1B foreign worker participants and to aid law enforcement in combating widespread identity fraud.   
President Trump is engaged in a two-track effort through the supporting American workers 'Save Jobs USA' lawsuit and completing the nine onerous federal administrative steps necessary to purge Obama's Immigration Executive [order] by December 2019.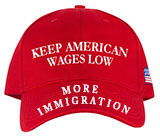 President Trump reneges on "America First" campaign promise, by Fred Elbel, CAIRCO.