Trump sells out his base for the fourth time in a month
Article subtitle:
Trump Abandons 'America First' Reforms: 'We Need' More Immigration to Grow Business Profits
Article CAIRCO note:
It only took two years in office before Trump sold out to the Chamber of Commerce
Article Body: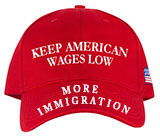 Fox Business host Lou Dobbs on Wednesday criticized President Trump abandoning his America First campaign pledge to restrict foreign workers and said he fears his administration has "lost its way."
Ahead of the 2020 presidential election, President Trump is abandoning his prior "America First" legal immigration reforms to support increases of legal immigration levels in order to expand profits for businesses and corporations.
For the fourth time in about a month, Trump suggested increasing legal immigration levels. With Apple CEO Tim Cook sitting next to him at the White House on Wednesday, Trump said he not only wanted more legal immigration but that companies needed an expansion of new arrivals to grow their business.
"We're going to have a lot of people coming into the country. We want a lot of people coming in. And we need it," Trump said:
It's not a question of do we want [more immigration], these folks are going to have to sort of not expand too much. And if we tell them … these are very ambitious people around this table. They don't like the concept of not expanding. We want to have the companies grow and the only way they're going to grow is if we give them the workers and the only way we're going to have the workers is to do exactly what we're doing. [Emphasis added]
The comments are a direct rebuttal of the president's commitments in 2015, 2016, and 2017, where he vowed to reduce overall legal immigration levels to boost the wages of U.S. workers and reduce the displacement of America's working and middle class....
Every one percent increase in the immigrant composition of an American workers' occupation reduces their weekly wages by about 0.5 percent, researcher Steven Camarotta has found. This means the average native-born American worker today has their weekly wages reduced by perhaps 8.5 percent because of current legal immigration levels....