What a real border crisis looks like, in a chart
Article CAIRCO note:
Former DHS official on "full-blown emergency" at southern border
Article Body:
If there's any question about a border crisis hitting the United States, take a look at this recent chart from the Customs and Border Protection agency. The latest line is the red line: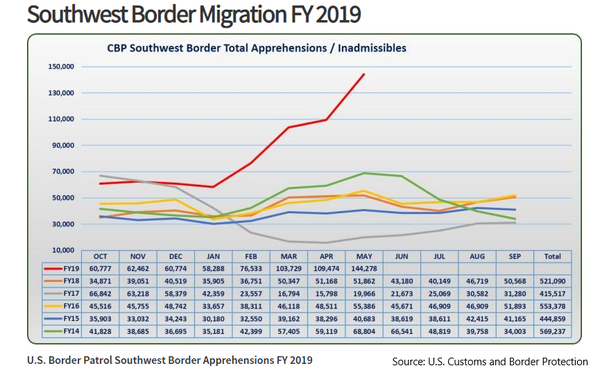 The figures show a border out of control, and absolutely no resources deployed to maintain any control over the border. The Border Patrol calls it, quite rightly, "
an emergency
." The lawmen can't house that many unvetted people looking for 'free' government services, and they're coming in huge waves now, fattening the cartels and allowing them to transport drugs as lawmen babysit moms-and-kids among the migrant waves, so catch-and-release is about all that can be done. 
Trump's apparently opting to sacrifice of the U.S. economy to remedy the matter in a desperate bid to get some kind of control over the surge....
If Trump loses the economy, Democrats have him just where they want him, with both a border surge and a bad economy keeping voters away in 2020. After that, Democrats stop at nothing to get him out of office and prosecuted.
It's a huge and dangerous crisis, and it's what Democrats, who have nothing to sell to voters, really want.