The World's Lost Forests
Article Body:
Mapping the World's Forests: How Green is our Globe?
According to the United Nations (UN), forests cover 31% of the world's land surface. They absorb roughly 15.6 billion tonnes of carbon dioxide (CO₂) every year.
More than half of this green cover is spread across the boreal forests of Russia and Canada, the Amazon in South America, and China's coniferous and broad-leaved forests. These carbon-sequestering forests purify the air, filter water, prevent soil erosion, and act as an important buffer against climate change....
Asia
Home to the boreal forests of Russia, China's broad-leaved forests, the mangrove forests of Indonesia, and the green belt along the mighty Himalayas, Asia boasts some of the richest and most biodiverse green canopies of the world.
[See maps in original article.]
Russia holds more than one-fifth of the world's trees across 815 million hectares—larger than the Amazon's canopy....
In 1990, China's forests stretched across only 157 million hectares, covering 16.7% of its land. By the end of 2020, this forest cover reached 23.4%, thanks to decades of greening efforts....
North American Forests
Canada, the United States, and Mexico combine for 723 million hectares of the world's forests. The vast stretches of pine and fir trees in the Great White North, coupled with the United States' mixed variety of forests, make the continent one of the largest carbon sinks in the world....
[See maps in original article.]
The World's Lost Forests
While China and a few select countries have proven that there is hope for building out the world's forests, the story is different in other places around the world. This map by Adam Symington uses data from the University of Maryland to track the changes in the world's forest cover from 2000 to 2021.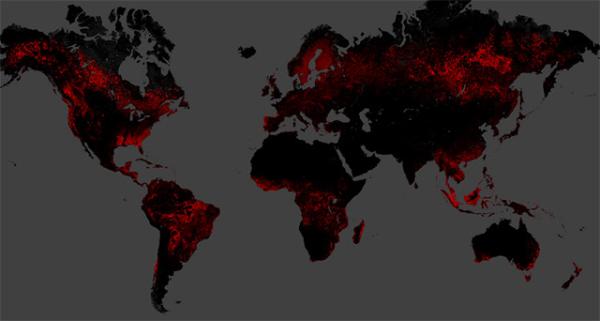 Since 2000, the world lost over 104 million hectares of pristine and intact forest landscapes. In 2020 alone, over 10 thousand square kilometers of the Amazon were destroyed for the development of roads....