The brutal attack at the First Data event (2004)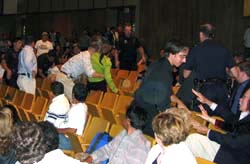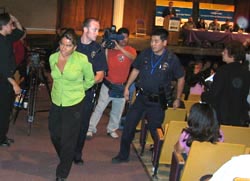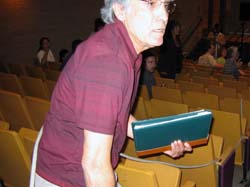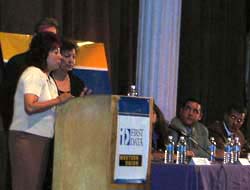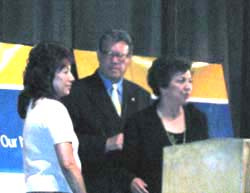 The following is an excerpt from a letter written by a woman who attended the debate:
I attended the Western Union Sham supposed Forum/Debate on Immigration reform at the North High School Thursday, July 22, 2004, as did one of your reporters. It was no debate.
It was also no forum. It was a complete "give them full amnesty and open the borders" discussion held by the Mexican Consulate in Denver, a UCLA Hispanic Professor, a Rep., two separate former illegal aliens (they said so) from CA and a couple of other Hispanic advocates, all Hispanic.
During the one-sided discussion a (white) lady was physically attacked - and hurt - by a Hispanic woman because the white woman was saying "this is illegal, what about the law?". Following the attack most of the audience cheered, with some saying "You deserve it". Then a Hispanic attorney got up after the Mexican woman was taken away by the police and assured the crowd that she would "take care of the lady and nothing would happen to her", at which point I asked her "You do mean the victim, right?" And she smirked and as she walked past me down the aisle I said, "You aren't referring to defending the attacker are you?" And she just stared at me while the rest of the crowd gave me hate looks and the she headed on out.
The entire give-them-amnesty panel said things like, "No one is illegal in Gods eyes", "I am from a family with 9 children and my mom brought me here illegally after my father was murdered in Mexico but I got my Green Card 13 years ago," and "Without 'immigrants' this country would financially fall apart."
No one from Denver, such as Former Gov. Lamm and Congressman Tancredo who oppose amnesty were invited on the panel. They cut off the audiences' questions at about 3-4 people, although 20 times that many were waiting in line to ask questions on the sham "open public forum" discussion. We have a serious problem here today.
First Data / Western Union Sued for Immigration Forum Assault

FOR IMMEDIATE RELEASE - October 20, 2004
News release from www.freespeechforum.org.
DENVER: A woman assaulted by a Mexican national at a Denver pro-immigration forum sponsored by First Data/Western Union filed a civil lawsuit today in Denver District Court. The lawsuit suit includes claims for ethnic intimidation, civil conspiracy, assault and battery, robbery, personal injury, and property damage against Colorado-based First Data Corporation, its subsidiary Western Union, the First Data/Western Union Foundation, the attacker and her former employer, Hep C Connection.
The plaintiff, Terry Graham, was challenging the forum's panelists from the audience when she was attacked and brutally assaulted by Julissa Molina-Soto, 32, an immigrants' rights activist.
Denver attorney Robert Corry, who is representing Graham, said, "No person in the United States of America should fear violent retaliation for exercising her First Amendment rights to speak out and participate in an open community forum. The sponsors of this forum, First Data Corporation and Western Union, had a duty and obligation to provide adequate security at the event, a responsibility they utterly failed to satisfy."
The forum was held on July 22 at Denver's North High School. The school was recently the focus of a national controversy for displaying the Mexican flag in its classrooms.
Denver police at the event arrested Molina-Soto and charged her with assault. She was released within minutes after the intervention of Mexican General Consul Juan Marcos Gutierrez and other Latino leaders, according to reports published in La Voz Nueva, a bilingual newspaper.
As paramedics attended to Graham following the assault, Polly Baca -- a Director of First Data/Western Union Foundation and head of Denver nonprofit LARASA ("The Race") -- and ACLU lawyer Adrienne Benavidez assured the largely Latino audience from the podium that Molina-Soto would have legal representation.
Molina-Soto is scheduled to appear on October 26 in Denver County Court on the assault charges. Jeff Joseph, head of the Colorado Chapter of the American Immigration Lawyers Association (AILA), is representing Molina-Soto in the criminal case.
Molina-Soto and her two children entered the U.S. nine years ago. A Mexican citizen, she reportedly has permanent resident alien status. She has held various jobs involving healthcare rights for legal and illegal Latino immigrants.
Baca's organization, LARASA, and Molina-Soto, who until recently was multicultural outreach coordinator for Denver's Hep C Connection, jointly ran a Latino outreach campaign on Hepatitis C in 2003. Benavidez, head of Denver's nonprofit Color of Justice, has long been a critic of the Denver Police Department's treatment of minorities. Benavidez headed Denver's Public Safety Review Commission, reviewing citizen complaints against police officers, for five years during which time the Police Protective Association accused her of bias. Former Police Chief Tom Sanchez protested the PSRC's "witch-hunt atmosphere" under her leadership. A vocal opponent of Denver's Columbus Day celebration, Benavidez also sits on the Board of Directors of Servicios de la Raza ("Services For The Race").
According to the First Data/Western Union Foundation website (www.westernunionfirstdata.org) LARASA, Services de la Raza, and Hep C Connection have all received Foundation grants since 2001.
Molina-Soto's attorney, Jeff Joseph, debated Colorado Congressman Tom Tancredo in February on the topic of immigration stating that "[The] enforcement policy of immigration is not in line with reality." Joseph also criticized President Bush's controversial immigrant amnesty proposal, saying it did not give incentives for illegal aliens to register and become legal US residents.
First Data Corporation has taken the lead in promoting massive immigration and immigrants' rights -- including illegal aliens -- since settling lawsuits charging that its subsidiary, Western Union, failed to disclose unreasonably high commissions it charged when wiring customers' money to Mexico.
In March, First Data/Western Union set up a $10 million "Empowerment Fund" to be used for Latino and pro-immigration causes. Raul Yzaguirre, president of the National Council of La Raza ("The Race"); Sal Gomez, Chairman the Denver Hispanic Chamber Gomez; and Robert de Posada, President of the Latino Coalition, were appointed by First Data to the Fund's Advisory Board. The Empowerment Fund is separate and in addition to charitable donations totaling about $5.5 million that First Data made as part of settlements of the class-action lawsuits.
Since March, First Data/Western Union has sponsored immigration panels across the nation. FIrst Data ignored complaints made prior to the Denver forum that participants did not represent both sides of the issue. Panelists at the Denver forum included Thomas Saenz of the Mexican-American Legal Defense and Educational Fund (MALDEF); Lisa Duran of Derechos Por Todos (*"Rights For Everyone"); Juan Salgado, President of the Illinois Coalition for Immigrant and Refugee Rights; Robert de Posada of The Latino Coalition; Raul Hinosa, UCLA's North American Integration and Development Center; and Roberto Ramirez, Founder of the Jesus Guadalupe Foundation. Some individuals had complained to First Data prior to the Denver panel that it was skewed and did not represent both sides of the issue.
First Data CEO Charles Fote announced in April that $800,000 of the Empowerment Fund would be used to create a Denver pilot program to support and increase the number of Latino business owners.