Hillary Clinton attempts to silence Bindi Irwin on population growth
By
Fred Elbel
on 26 January 2013
Population growth in less developed countries drives people to migrate to more developed - and less populated - countries such as the United States. Censorship of the population issue is just as problematic as censorship of the immigration issue.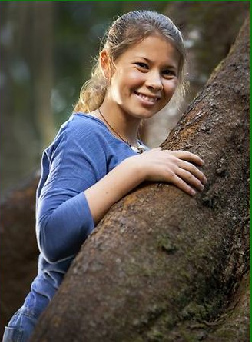 14-year-old Bindi Irwin is the daughter of Steve Irwin, the Australian wildlife expert and conservationist known as the "Crocodile Hunter". Although Irwin tragically died in 2006 from a stingray barb, his family remains passionately involved with wildlife conservation and receives continued notariety. 
Bindi was recently invited by U.S. Secretary of State Hillary Clinton to write an essay on why she had chosen to devote her life's work to wildlife conservation. The essay was to be printed in the December, 2012 edition of Go Wild: Coming Together for Conservation - the journal that purportedly serves as an outreach component of Secretary Clinton's endangered species initiative.
Even at her young age, Bindi understands the consequences of unending population growth - which she included in her essay. Unfortunately, in an unabashed bout of editing frenzy, the journal struck all mention of population from the essay. Bindi flatly refused to allow the shredded version to be published.
----------------------
Article: Hillary Clinton tries to silence Bindi Irwin on population growth
by Kristin Shorten
news.com.au
January 24, 2013
The piece [by Bindi Irwin] was supposed to be published in the December issue titled Go Wild Coming Together for Conservation as part of Secretary Clinton's endangered species initiative.
But after writing exactly 1000 words urging society to address overpopulation, the former first lady's department returned it for final approval with most of it edited out.
"How is it possible that our fragile planet can sustain these masses of people?" Bindi wrote.
"Think of it this way. Pretend for a moment that I'm having a party, inviting 15 of my closest friends. I've rented a room big enough to fit 15 people, I've bought 15 sandwiches for each of my friends to eat, and I have put together 15 party bags, one for each friend.
"My party is about to start, and I hear a knock at the door. My friends are here! Only, when I open the door, 70 of my friends are standing there wanting to come to the party!
"What do I do? My room is only big enough to fit 15, with 70 we won't have any room to move and dance. I don't have enough food. Do I divide the sandwiches among the 70 people? But then everyone will still be hungry. What about the party bags? Do I only give the party bags out to my closest friends? Isn't that unfair to everyone else?
"That is the crisis facing mother earth today."...
"So Bindi wrote to Hillary Clinton's organisation and said 'what happened to freedom of speech? This is my opinion and I don't want that edited out'."...
The tough-talking teen – who onscreen has freed Willy, fought pirate animal poachers and hosted Bindi's Boot Camp – pulled the essay from the publication in anticipation of a response....
---
Below is an excerpt from the original essay submitted by Bindi Irwin to Go Wild: Coming Together for Conservation, December, 2012.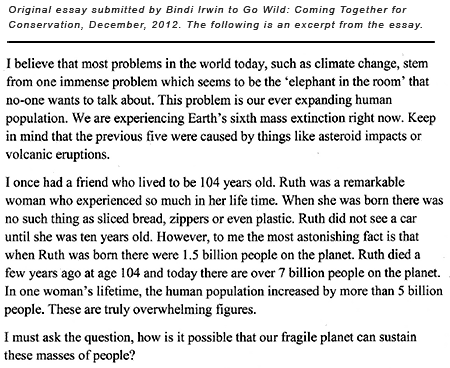 Below is an excerpt from the essay edited and returned by Go Wild: Coming Together for Conservation to Bindi Irwin, December, 2012.