Defamation Lawsuit Against SPLC Hate Group Moves Forward
By
Fred Elbel
on 9 June 2023
[Updated 9 June 2023]
Dustin Inman was a sixteen-year-old American boy killed by an illegal alien in a traffic collision on Father's Day weekend in 2000. He was traveling with his parents to a weekend of fishing in the North Georgia mountains. His death was a direct result of government refusal to secure American borders and enforce American immigration law.
The driver of the car that killed Dustin, Gonzalo Harrell-Gonzalez, was in America illegally. He had obtained a North Carolina driver's license using his Mexican birth certificate and a Mexican Matricula Consular ID card. He is still at large.
Former Marine D.A. King founded the Dustin Inman Society in 2005 to fight illegal immigration in Georgia. King, whose adopted sister is Korean, financed his ongoing effort with his life savings. King's focus is illegal immigration, not individual races or ethnicities. The Dustin Inman Society board includes Black, Hispanic, and immigrant board members.
In 2011 the Southern Poverty Law Center (SPLC) called King a "nativist." Yet they admitted the Dustin Inman Society wasn't a hate group. Heidi Beirich, SPLC, noted that: "Because he is fighting, working on his legislation through the political process, that is not something we can quibble with, whether we like the law or not..."
Then in February 2018 the SPLC changed their tune and listed D.A. King and the Dustin Inman Society as an anti-immigrant hate group. King said the SPLC's "goal was clearly to paint us as the extremists and to marginalize us in the eyes of state lawmakers and the media. That effort was largely successful."
King sued the SPLC on the basis of defamation. King is seeking a trial, a permanent injunction ordering the SPLC to remove its accusations, to issue a public apology and retraction, and to pay compensatory and punitive damages. King stated:
With the full knowledge that we are a coalition made up of Americans of diverse descriptions - including proud immigrants - the SPLC has repeatedly spread false and libelous accusations that DIS is somehow an "anti-immigrant hate group." While we educate Georgians on the need for state legislation aimed at deterring the organized crime of illegal immigration in Georgia, the SPLC has worked against passage of such measures as anti-enforcement lobbyists in the Georgia Capitol.
King cited 2007 remarks from Mark Potok, who at the time was editor-in-chief of the SPLC's Intelligence Report. King told The Daily Signal:
Potok made the SPLC's intentions on opposition clear when he admitted in a speech, 'I want to say plainly that our aim in life is to destroy these groups, to completely destroy them,'" King told The Daily Signal. "That was and is the goal in attacking me and the Dustin Inman Society. We are a bit flattered in that we operate on personal funds and small donations."
The SPLC filed a motion to dismiss the lawsuit. The motion to dismiss has been denied. This means that the lawsuit will proceed to the next phase: discovery, which could expose the inner workings of the SPLC. A court date has not yet been set.
The Dustin Inman Society has set up a GoFundMe page to help fight the SPLC in court. Or you can donate via the Society's GiveSendGo donation page.  Your donation will be greatly appreciated.
Related
SPLC to Face the Music for 'Hate Group' Defamation as Lawsuit Clears Major Hurdle, by Tyler O'Neil, The Daily Signal, 4 April 2023:
The lawsuit alleges that the SPLC twisted statements from King and Fred Elbel, another member of the society's board, out of context...
The SPLC also quotes Elbel's words - in which the board member claims to "hate 'em all," listing a broad swath of ethnic and other groups including White Anglo-Saxon Protestants - from a 2004 internal Sierra Club offshoot discussion group post Elbel says he intended as parody...
SPLC: Still Alive and Hating, by Mark Krikorian, 7 June 2023:
... in what I assume is a bid to goose donations (and add to its half-billion-dollar hoard of cash), the SPLC has added parents'-rights groups like Moms for Liberty to the hate map. (Tyler O'Neil, author of Making Hate Pay: The Corruption of the Southern Poverty Law Center and the Daily Signal's indefatigable SPLC-watcher, is on the case.)...
But the SPLC may be facing an unprecedented challenge. Earlier this year, a defamation lawsuit against it for a "hate group" designation was, for the first time ever, not dismissed and has made it to the discovery stage. The Dustin Inman Society - run by immigration-enforcement dynamo D. A. King in Georgia - was classified as a "hate group" in 2018, right after the SPLC registered as a lobbying organization to oppose a bill King supported in the state legislature. (Coincidentally.)...
But SPLC was sloppy in smearing the Dustin Inman Society, and King saw an opening. So last year he filed suit. The first case was dismissed and so King filed suit again, and this time, in April of this year, the judge allowed the case to proceed to discovery, with discovery due by April of next year....
No one has ever gotten a look at SPLC's internal machinations, and staff communications and other files regarding the plaintiffs could well turn over rocks that SPLC would prefer to keep in place...
King doesn't have deep pockets - he's had to take out two mortgages just to keep going. Which is why he needs the support of anyone who wants to see some sunlight shed on the SPLC's shenanigans. To help fund its fight for justice, the Dustin Inman Society has a GoFundMe page, and one at GiveSendGo. I've donated myself; this is not a grift. It's not every day that an opportunity like this comes along to get accountability from one of the worst actors on the left. Don't squander it.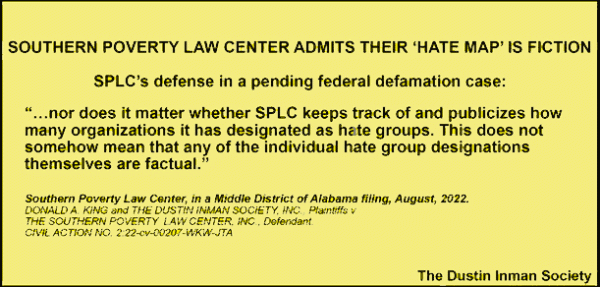 The Southern Poverty Law Center's motion to dismiss our defamation complaint has been denied, by D.A. King, Dustin Inman Society, 3 April 2023.
SPLC 'hate group' labeling of conservative groups gets legal scrutiny, by Breccan F. Thies, Washington Examiner, 6 April 2023.
Conservatives Wrongly Demonized as 'Hate Groups' May Get Justice at Last, by Tyler O'Neil, The Daily Signal, 21 April 2023
A Lawsuit Exposes the Southern Poverty Law Center's Lies, by Daniel Greenfield, FrontPage Magazine, 8 September, 2022. More in-depth information on the SPLC lawsuit.
The SPLC raises millions of dollars using false allegations of "hate." View the SPLC financial statement...
Southern Poverty Law Center's 'hate' list suffers 'monumental' legal setback, The Washington Times, 1 May 2023.
SPLC Whistleblower's History Makes Groundbreaking Defamation Case Even Stronger, Daily Signal, 4 June 2023.
Discredited Southern Poverty Law Center Puts Moms for Liberty, Other Parents' Rights Groups on 'Hate Map', Geller Report, 7 June 2023.
White House Logs Show Biden Meeting With Far-Left Smear Factory Tied to Terrorism, Daily Signal, 5 July 2023.
More on the widely discredited SPLC
Crazy SPLC smears black woman as white nationalist, by Fred Elbel, 5 November 2015.
The Laughable Loony Left Looses It - The Marxists' Missive About Mollusks, by Fred Elbel, 3 February 2019.
The SPLC - Southern Poverty Law Center hate group - research and photos.
The Reckoning of Morris Dees and the Southern Poverty Law Center, by Bob Moser, The New Yorker, 21 March 2019.
Profiteers of Hate - The Smear-Mongering Agenda of the Southern Poverty Law Center, The Social Contract, Spring, 2010. Articles include:
Southern Poverty Law Center: Wellspring of Manufactured Hate, James Simpson, Organization Trends, Capital Research Center, September 25, 2012.
The SPLC Is At It Again, Chuck Baldwin, March 14, 2013.
Book: Making Hate Pay: The Corruption of the Southern Poverty Law Center, by Tyler O'Neil, 2020.
More articles on the loony antics of the hateful Southern Poverty Law Center - SPLC