On May 16, 2005, Colorado Alliance for Immigration Reform held a press conference and protest at the Denver City and County Building. After the press conference, CAIRCO representatives hand delivered a letter to Denver Mayor Hickenlooper, demanding, not requesting, that Executive Order 116 sanctuary policy language be replaced with unequivocal language encouraging unfettered cooperation with federal immigration authorities in the identification and removal of illegal aliens. 
Colorado Alliance for Immigration Reform (CAIRCO) said Denver's "sanctuary policy" is a de facto amnesty for illegal aliens, including known felons. At issue is language in Denver's police department operations manual which states, "Generally, officers will not detain, arrest, or take enforcement action against a person solely because he/she is suspected of being an undocumented immigrant." 
Under current federal immigration law, an alien who is deported and then returns without authorization has committed a felony. CAIRCO's Fred Elbel and Mike McGarry said that the city's current policy prevents Denver's police officers from notifying immigration authorities about the presence in Denver of such an alien, even when those police officers have knowledge that alien had been deported. "This is nothing but an amnesty for foreign criminals while putting the safety and welfare of citizens at risk, and it must stop now," Elbel said.
(Also see CAIRCO's questioning of Mayor Hickenlooper on Denver's sanctuary city policy at a burrito breakfast fundraiser for the El Centro illegal alien hiring hall.)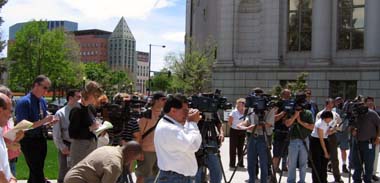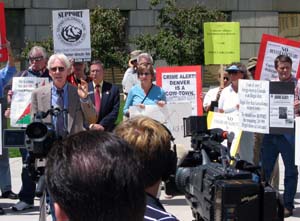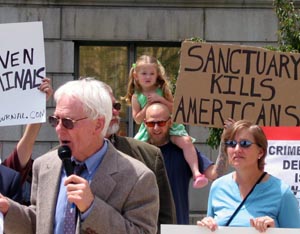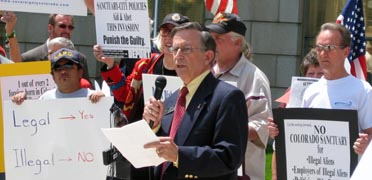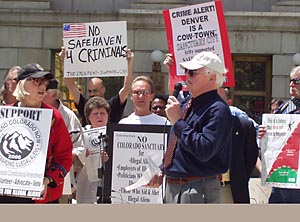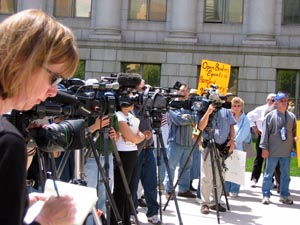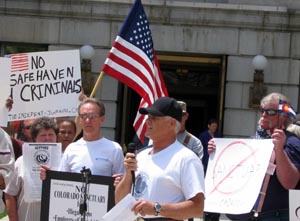 Bob Copley spoke of his experiences protecting our border as a
Minuteman Project
volunteer.