Background - Mexican Matricula Consular (illegal alien) ID card in Colorado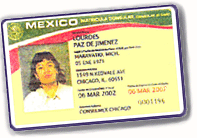 In early October of 2002, Denver Mayor Wellington Webb, without debate and public comment, ordered various City and County departments to accept the Mexican matricula consular ID card as valid identification. The Denver-based Mexican consulate had already issued 8,000 of the $29 cards between June and October, amounting to one every five minutes during normal office hours.
U.S. Congressman Tom Tancredo, an outspoken critic of illegal immigration, said, "The only people who benefit from having such an ID are those who have come illegally and have broken our laws. It is ludicrous to believe that this method is a legitimate way of proving identity. Frankly, it's a complete farce, and it's far too risky for our city government to be accepting such flimsy identification cards during a time when our nation is vulnerable to future terrorist attacks."
Mayor Webb asserted the Mexican consulate imposes a "high degree of proof of identification" to issue the card. Mayor Webb also said, "The nice thing about having the card that's given out by the Mexican consulate is you have a way to determine which ones (Mexicans) are here legally, because they're the ones who get the card, the others do not." Nothing could be more deceiving. (See the guest opinion Lo, the emperor's Mexican ID card).
CAIRCO's Mike McGarry remarked in a November 22, 2002 Denver Post story: "Who would have a Matricula card? By definition, they are almost all going to be illegal aliens. The mayor is asking us to give full faith and credit to an amazingly corrupt government. It's absurd that we would put our security and our document integrity in their hands. These are phony, sham cards."
Colorado activity against the Matricula Consular ID card

CAIRCO took the following actions:

On October 31, 2002, CAIRCO hand-delivered a letter of intent to Denver Mayor Wellington Webb. For more information, see:
 
Press release, October 31, 2002.
 
Open records request to the City and County of Denver.
 
CAIRCOLetter to U.S. Attorney.
 
Notification of INS regarding enforcement of clear violations of U.S. immigration law in a Denver-based hiring hall.
An independent group of citizens in Boulder took action against that city's possible action to accept matricula consular ID cards.
 
A letter of objection was filed with the Mayor and City Council of Boulder, Colorado at the November 19, 2002 City Council meeting, stating "Your actions may possibly put you, and elected and appointed officials, and public servants, in legal jeopardy both personally and professionally."
 
A substantial letter of objection was filed with the Denver INS Director and Denver U.S. Attorney asking for an investigation of the City and County of Boulder's acceptance of the Mexican ID card and other activities.
 
In addition, the letter was filed with the city's liability insurance company, since it is likely that the city's policy does not cover personal liability arising from accepting the matricula consular ID card.
 
An open records request was filed on January 16, 2003.

Friends of Immigration Law Enforcement (FILE), based in Washington, DC, wrote letters to numerous City and County and other municipalities throughout Colorado, insisting that they stop accepting the matricula consular card.
 
Increasing use of the card amounts to a "stealth amnesty" for illegal aliens, and that local governments are essentially determining immigration policy, which is in fact under constitutional jurisdiction of the federal government.
 
FILE was instrumental the effort to initiate Colorado HB-1224, which was signed into law in May, 2003 - see below.
 
Colorado Representative Don Lee and Senator John Andrews announced their sponsorship of a bill (The Colorado Secure and Verifiable Identity Document Act) that would make illegal the accepting of the Mexican matricula consular ID card and other "unsecured" IDs. See CAIRCO's press release.
 
The bill was amended by the Senate and iterated through a House-Senate Conference Committee to develop final wording. See CAIRCO's letter to Senator Andrews and Representative Lee, co-sponsors of the bill, regarding the amendment.
 
This bill was signed into law on May 22, 2003. To view the history of the bill, go to the Colorado Government legislative information site and enter "1224" as the bill number. (A new browser window will open).
 
See testimony by CAIRCO co-director Fred Elbel and testimony by CAIRCO spokesperson Marlene Guerrero. Also see former Governor Dick Lamm's letter of support for HB-1224.
On January 30, 2003, Representative Tom Tancredo (R-CO) introduced H.R. 502 - legislation requiring that identification used to obtain federal public benefits or services, including law enforcement services, meet restrictions ensuring that it is secure and verifiable. This bill would prohibit any federal agency, commission, or other entity within any branch of the federal government from accepting, recognizing, or relying on any identification document not issued by a federal or state authority or issued without verification by a federal law enforcement, intelligence, or homeland security agency. (See this article for more information).
The General Services Administration has suspended recognition of identification cards issued by the Mexican government to its nationals in this country. (See this article for more information).
Video of matricula ID card debate

On January 8 & 9, 2003, CAIRCO proudly cosponsored syndicated columnist and investigative journalist, Michelle Malkin in various appearances including a public debate and discussion: The Mexican "matricula consular" ID card: Safe or Sorry?.


CAIRCO produced a video tape of this lively, informative and very timely debate. We encourage you to order the debate video and get it as much exposure as possible, including showing it to elected officials!
We distributed the video to public access television stations throughout Colorado. If you would like a professional quality format of this video for broadcast, please contact us.
Excerpt of testimony given by CAIRCO co-director Fred Elbel

Talking points from testimony given to Colorado House IT Committee on HB 1224 on February 10, 2003
The Mexican matricula consular ID card is a complete farce. It's issued by a corrupt government sneaking around behind closed doors to get our cities to accept the card - without citizen input.
It's a back door attempt at a stealth amnesty. Roberto Rodriguez Hernandez, director of the Mexican card program was quoted as saying "It's necessary to push the need for an amnesty at all levels."
This card is not a secure document. The Denver Mexican consulate has issued cards at the rate of one every five minutes. The documents upon which the card depends - including a Mexican birth certificate - are about as easy to forge as homework.
Only illegals need this card. Nearly one million cards were issued last year and more than 42,000 Mexicans in Colorado now have cards.
Mexican President Fox couldn't get new amnesties after September 11, so he began lobbying U.S. cities and banks to accept the cards.
No major bank in Mexico accepts the card to open an account. And the cards are recognized as IDs in only 10 of Mexico's 32 states and districts.
Now, Guatemala, Honduras, Poland, Peru and El Salvador, aware of Mexico's success, have begun or are considering issuing cards of their own.
Insurance companies probably won't cover liability associated with the card. So if a city accepts the card and a citizen is injured by an illegal alien, the citizen could likely sue individual city council members.
The author of a new Center for Immigration Studies report IDs for Illegals stated: "Mexico's marketing of its consular cards is a direct challenge to U.S. sovereignty."
"The matricula card is making the Mexican consular office one of the largest vendors of fraudulent document documents in the country. No politician or professional law enforcement officer faithful to his or her oath of office would promote or condone acceptance of the matricula as a form of officially sanctioned identification." - Federation for American Immigration Reform's Law Enforcement Advisory Council Jim Dorcy, a 30-year veteran of the Border Patrol, INS, Department of Justice Inspector General's Office, and expert in fraudulent documents and government ethics.
It's absurd that we would put our security and our document integrity in the hands of a foreign government.
The FBI and the Justice Department testified in the U.S. Congress that accepting the matricula card and similar IDs posed a dangerous threat because they are issued on the strength of unsecured documents and because of the absence of verifiability.
Jorge Castaneda, the former Foreign Minister of Mexico, testified before a Senate Committee on July 13, 2005 that Mexico cannot verify the true identities of people to whom it has issued Matricula consular ID documents.
Additional Matricular Consular ID information

See CAIRCO's catalog of articles on the matricula card - these contain useful background information.
Also see these two articles border security issues: Afghanistan Illegal Surfaces Locally and 'Arab terrorists' crossing border.
See the new Center for Immigration Studies report IDs for Illegals - Mexico's Matricula Consular Facilitates Illegal Immigration.
A December, 2002 Denver Channel 7 poll shows that out of 3271 voters, 87% think the city of Denver should not recognize Mexican ID cards for legal, and illegal, aliens as legitimate identification.
Article: Abolishing America (contd.): Mexico Ceded Right To Say Whom U.S. Can Deport, By Allan Wall, on the very informative VDARE website.
Issue brief: The Mexican Matricula Consular Should Not Be Accepted for Official Purposes, by FAIR.
Mexi-Sham ID FAQ from American Patrol website.
Good background information on Immigration and the Law.
Consular ID Cards in a Post-9/11 World - Testimony of Steve McCraw, Assistant Director of The Office of Intelligence, FBI Before the House Judiciary Subcommittee on Immigration, Border Security, and Claims on Consular ID Cards, June 26, 2003
Matricula toolkit for activists in other states

We have been quite successful in opposing the efforts of the Mexican government to influence Colorado cities and municipalities. We have put together an activist toolkit for you to use. This toolkit explains what we have done and offers tips and techniques to achieve success. More information.