Biden Demonizes Trump Supporters in Unhinged Prime Time Diatribe
Article subtitle:
'MAGA Forces' Are 'a Threat to this Country;' 'Fanning Flames of Violence'
Article Body:
In a prime time speech to the nation Thursday night, Joe Biden targeted about half of the citizens in the United States with an unhinged message of condemnation, calling those who support former President Donald Trump "MAGA forces" who are a "threat to this country."
The Biden White House has sharpened its attacks against its political enemies in recent weeks, calling out Trump supporters a far-right "extremist threat" to Democracy who are motivated by an ideology of "semi-fascism."...
"Donald Trump and the MAGA Republicans represent an extremism that threatens the very foundations of our Republic," Biden intoned.....
"And here in my view is what is true. MAGA Republicans don't respect the Constitution," Biden declared. "They do not respect the rule of law, they do not recognize the will of the people. They refuse to accept the results of a free election," he added bitterly, referring to the widespread belief the the 2020 election was rigged....
He then aimed his fury at those who view "the mob" that stormed the Capitol on January 6, as "patriots," rather than as "insurrectionists who placed a dagger at the throat of our Democracy."...
Fox News host Tucker Carlson said that by demonizing Trump Republicans, Biden is calling for a one party state."
"Does that make you nervous?" he asked.
A few more questions and observations on last night's speech, New Neo, 3 September, 2022:
(1) Did Biden's handlers not realize that the black and deep-red theme would conjure up Nazi symbolism, or was that a conscious decision to evoke it?...
(2) Did they realize the speech was given on the 83rd anniversary of Hitler's invasion of Poland, which began World War II?...
(3) Why did the major networks decide not to carry the speech? Did they have an advance copy of the text, and realized this would not be a good look for Joe? ...
(4) Some people on the right say this speech smacks of desperation. I don't see it that way. In my previous post today, I wrote that it is merely an escalation in a long line of rhetoric demonizing Republican voters....
(5) Quite a few adjectives starting with "m" come to mind for Biden's demeanor and message during the speech. I mentioned one last night: malevolent. Others are menacing, manipulative, and malicious....
Biden's Use Of The Marines Violated Long-Standing Federal Policies And Regulations, ZeroHedge, 5 September 2022.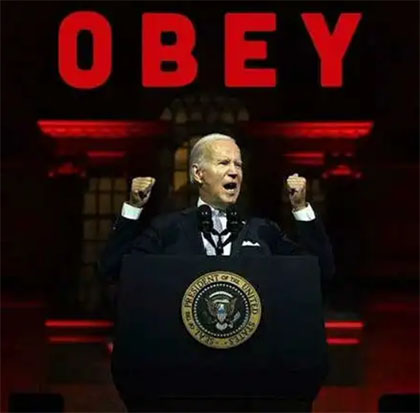 Biden Puts the 'Total' in Totalitarianism - America has come perilously close to the edge of the point of no return, by Roger Kimball, American Greatness, 3 September 2022.
Joe Biden's Nuremburg Rally, by Derek Hunter, Townhall, 4 September 2022.
 
Observation:
The Bidens are deeply in bed with China. Biden's speech from hell sounds like it could have come from Hitler or Mao. Which is exactly what the Chinese want. Such a speech divides Americans and keeps them from focusing on their common enemy: China.
What do they mean when they say "Our Democracy"?