Maine's Largest City Overwhelmed by Migrant Onslaught
Article Body:
Not mentioned in the article is the increase in violent crimes: Portland, Maine shows a crime rate that is 129% higher than the Maine average. Also, the number of rapes reported to law enforcement in Maine climbed to its highest point in recent memory, according to statistics released Thursday. There were 448 reported rapes in Maine in 2017, up from 383 the year before – a 17 percent increase – according to data that every law enforcement agency in the state collects and reports to the FBI. The figure is the state's highest single-year total for rapes since at least 1994, the earliest year for which data is readily available.
The Democrats recently gained control of the legislature and the governor's seat. Buckle your seat-belt and get outta Dodge.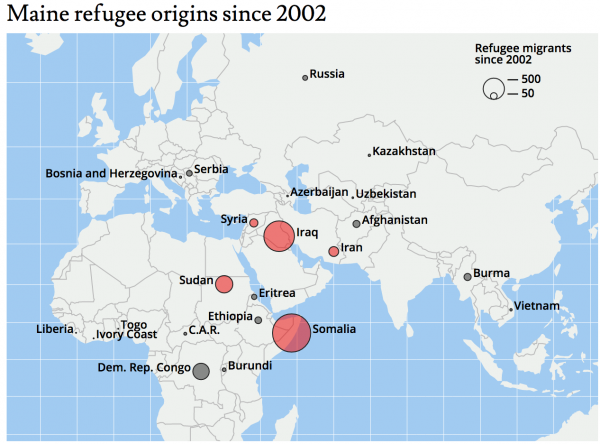 The Maine Access Immigration Network (here) directs migrant to free Obamacare and conversations about female genital cutting. Nowhere do they say it's a bad thing.
Portland, long welcoming to immigrants, is running out of shelter space, funds
By Jennifer Levitz, The Wall Street Journal Jan. 27, 2019:
PORTLAND, Maine—This community has long offered a generous hand to immigrants.
But Maine's largest city, population about 67,000, is now struggling with an influx of asylum seekers, to the point where a local official is alerting shelters in other parts of the country to discourage people from heading here....
Portland's challenge is expected to drive new debate around immigrant assistance in the state, where Democrats recently gained control of the legislature and the governor's seat.
Legislation recently filed by Democratic state Rep. Michael Brennan would beef up state assistance to asylum seekers. ...
Under Maine law, asylum seekers who have filed an application may qualify for general assistance, for up to 24 months. Funded by the state and municipalities, that program provides vouchers for rent, utilities and other staples.
In Portland, 65% to 70% of the 1,000 people now receiving general assistance are noncitizens, primarily asylum seekers, according to city staff. ...