Mainstream Media boycotting 'Final Battle'
Article subtitle:
Media (including Fox News) boycotting mention of David Horowitz's bestselling new book
Article Body:
The book buying public may be snapping up copies of David Horowitz's newest book: Final Battle: The Next Election Could be the Last, but the media's cultural gatekeepers are doing their best to prevent more people from buying it. A shameful case of suppression of conservative thought is underway. Mark Tapson writes at Front Page Magazine: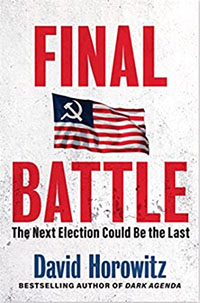 It is the number one best-selling political book in the nation as recorded on Amazon's best-seller list. For three months it has been the number one best-seller in Amazon's "Elections" category...
Yet, as Newsmax points out, to date outside of Newsmax there has been no mention of Final Battle in the major media, including Fox News. The boycott extends to the leftwing best-seller lists, in particular the New York Times Bestseller List, the gold standard of book sales. Final Battle does not appear on the Times list at all. When I inquired, the publisher at Humanix Books told me that weekly sales of Horowitz's book "have been higher than other titles on the New York Times bestseller list, but the NYT has not yet included Final Battle. And they won't explain why not."
Tapson speculates as to why Fox has joined with the Times in suppressing mention of the book:
... Horowitz has been a consistent supporter of former President Trump from the moment the real estate and reality show mogul announced his candidacy back in 2015... Fox News was always wishy-washy at best about Trump... Trump himself soured on Fox News after the media giant backed off from defending his claim that the 2020 election was stolen – a history-changing attack on the election process that Horowitz details in Final Battle. Could Fox News have decided not to promote an influential book that might empower a Trump presidential run?