Understanding the Caravan — the Map Says It All
Article Body:
It's often said that a picture is worth a thousand words. That is certainly true with respect to the massive migrant caravan from Central America that has arrived in Tijuana.
In this case, the picture is the map below. The blue path is the one that the migrants took to the San Ysidro Port of Entry at Tijuana/San Diego, CA. The red path is the one that they could have taken to the Hidalgo Port of Entry at Reynosa/McAllen, TX.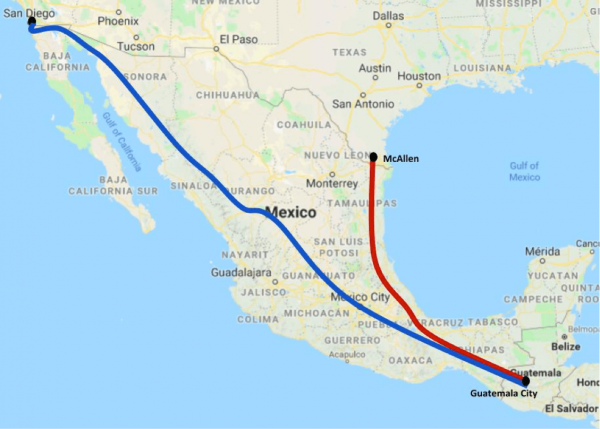 Notice the difference? The path to McAllen is approximately 1,300 miles long; whereas the path to San Diego is approximately 2,700 miles long. So the caravan travelled more than twice as far as it needed to.
Why in the world would they do that? They didn't have their own vehicles, and they weren't carrying enough food or resources to justify the longer journey....
Travelling the extra 1,400 miles to Tijuana/San Diego would take the migrants to the Ninth Circuit of the U.S. Court of Appeals, with its numerous judges willing to minimize the President's statutory authority to restrict entry of aliens into the United States. ...
The second reason for travelling twice the distance is that California is a sanctuary state with dozens of sanctuary cities like Los Angeles and San Francisco. ...