White US children will be minorities by 2020 after immigrant 'baby boom', Census reveals
Article Body:
By year 2020, 50.2 percent of children will be minorities
By year 2033, Americans 65 years and older will outnumber children 
By year 2044, 50.3 percent of all Americans will be minorities  
White children will be outnumbered by minority kids in the United States in just five years, new Census Bureau projections reveal.
This is the result of an ongoing trend of declining birth among white Americans and a baby boom among immigrant groups, as well as a surge in immigration.
By the year 2020, 50.2percent of all children in the US are expected to be non-white, according to the Census. By 2044, whites will be outnumbered by minorities.
The Census study, released this week, predicts that by year 2060, nearly 20 percent of the population will be foreign born - thanks to an influx of 64 million new immigrants.
Deadline: In less than five years, minority children will outnumber white ones. In 14 years after that, more than half of all Americans will be minorities.
The US will add nearly 100 million people to its population in the next 40 years. 64 million will come from immigration and another 40 million will be born to foreign-born mothers.
The populations of Hispanics in the US will rise 114percent - from 55million in 2014 to 63.6million in 2060 - making up about 29percent of the population.
And the number of non-Hispanic whites will actually likely to decline over the next 40 years - from 200 million and 62 percent of the population now to 182 million and 44 percent of the population in 2060.
The number of people who identified themselves as only black will also decline about 8 percent to about 59 million.
The number of Asian-Americans will also increase dramatically - even more than the Hispanic population - rising 128 percent to 22 million.
The Census report also projects a massive surge in the portion of the population that's over age 65. By 2030, 20 percent of that population will qualify for a senior discount.
In 2033, there will be more Americans over age 65 than children - thanks to the aging Baby Boom generation.
By year 2060, there will be 76 'dependents' - those over age 65 and drawing government benefits  or under 18 - for every 100 working-age Americans.
Demographers estimate that by 2060, the population of the United States will increase by 9 8 million - from 319 million to 417 million people.
Even so, the overall population growth of the nation will slow considerably over the next 40 years - as immigrants and the children of immigrants reach higher incomes, their fertility rates will drop - like native-born whites have.
Big change: This chart shows how the portion of whites in America will fall from 62 percent to 44 percent in the next 40 years.
The portion of foreign-born residents will increase from 13 percent now to nearly 20 percent by year 2060.
America in 2060: What the country will look like in 40 years
A new Census Bureau study, paints a demographic portrait of America in the year 2060 than it looks today. Here are a few takeaways:
Race and ethnicity
    44 percent white
    28 percent Hispanic
    14 percent black
      9 percent Asian
      6 percent mixed race
Age
    20 percent under 18
    57 percent 18 to 64
    24 percent 65 and older
Immigrant population
    19 percent foreign-born
    81 percent native-born
---
CAIRCO Notes
These dire projections first appeared in the article New Projections Point to a Majority Minority Nation in 2044, Brookings Institution, December 12, 2014. 
Yet the fundamental fertility assumptions used in the projections of that article have been debunked. Thus, the conclusion is invalid. See More Census Bureau Propaganda, by Terrence Hill, Occidental Observer, December 26, 2014.
As Hill lucidly points out, the driving factor in demographic change is mass immigration, not fertility (children per woman). Mass immigration - both legal and illegal - are decidedly within our nation's scope, power, and responsibility to control. 
American women voluntarily achieved replacement level fertility (2.1 children per woman) in 1972. America's population would have increased until 2020 due to population momentum, then it would have gradually declined to a sustainable level.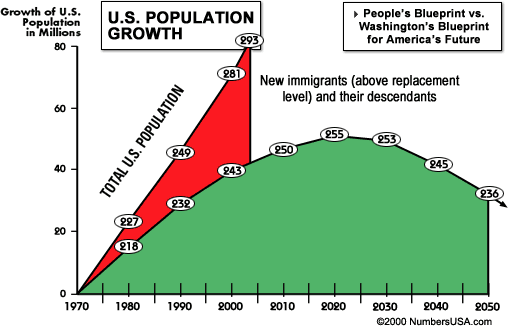 Sadly, Americans - and their children - are being punished by the growth-mongering agenda of the Chamber of Commerce and the identity politics of the Democratic Party. GOP elites will get all the free, foreign labor they want and Democrats will get an unending stream of new Democratic voters. As a consequence, mass immigration is driving America's population to double within the lifetime of children born today.
The deleterious environmental consequences of immigration-driven population growth will be significant.
Related articles
CAIRCO Research