2000 Mules - Rigging An Election
We have put together I think the most extensive and inclusive voter fraud organization in the history of American politics.
  - Joe Biden, November 20, 2020
2000 Mules, is a new blockbuster documentary from Dinesh D'Souza.
Highly respected Dinesh D'Souza, working together with Catherine Engelbrecht of True the Vote, just released a trailer to their new movie, "2,000 Mules," that shows the world exactly how the 2020 Presidential Election was Rigged and Stolen. The movie exposes the lies of the Democrats, RINOs, and Fake News who say it was the "most secure election in history." It was, perhaps, the least secure in history.
The ballot box was stuffed, and stuffed like never before—and it's all on video. Ballots were trafficked and sold in a massive operation in each Swing State. The evidence is so damning, what will the cowards who sat and did nothing about the stolen election say now? The way our votes were taken away is a disgrace to our Nation. It must be fixed.
- President Donald Trump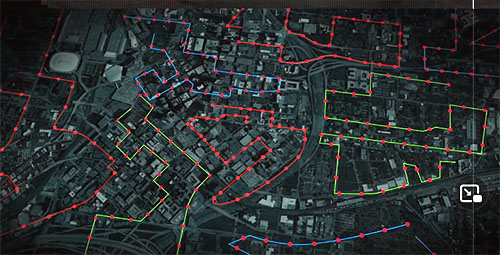 Download and stream from 2000Mules.locals.com. Also see the 2000 Mules website. The cost is $20, which supports the cost of production and the research of True the Vote.
If you can't afford the $20, the movie has been bootlegged to Bitchute in low resolution: 2000 mules full documentary. However, it's better to pay the $20 to a worthy cause.
D'Souza's '2000 Mules' Is an Absolute Must-See, by Roger L. Simon, Epoch Times, 2 May 2022.
Researcher Featured in '2000 Mules' Documentary Explains How Local Election Fraud Was Grown to National Scale, Epoch Times, 2 May 2022.
2000 Mules and the Modern Day Battle for the Flow of Information, by Roger L. Simon, Epoch Times, 5 May 2022:
[The Supreme Court leak of the Roe opinion] became the media story of the day...
It was the same day, interestingly, that Dinesh D'Souza's new film "2000 Mules" was opening in 300 theatres where, he told me via phone, the movie did very well, with sold-out shows or nearly so everywhere....
They have already denied him [D'Souza] the opportunity to run his trailer on YouTube or to advertise there....
Starting May 7, the film will be available on Rumble's Locals and Salem Media's SalemNow, both operating from secure servers...
... when I Googled "2000 Mules" to make sure I had the right link. What came up as the No. 1 result wasn't the film's website but this by The Associated Press: "FACT FOCUS: Gaping holes in the claim of 2K ballot 'mules'
The same link also came up in the No. 3 slot. In between was a link to IMDb. No website.
The flow of information couldn't be more corrupt.
As of 5 May 2022, DuckDuckGo and Bing return the movie website as the first search result when searching for "2000 Mules".
The Most Terrifying Movie I Have Ever Seen, by Steve Rossiter, Canada Free Press, 6 May 2022:
... If you choose not to see it, you will remain ignorant of what professional politicians of both major political parties are capable of, and believe me; in this case, ignorance is not bliss.
... The part that terrifies me is the information that was available about each and every person who carries a cell phone that is available for purchase on the open market by third parties....
Consider this: Could a bad actor in government now simply go buy a block of information from your phone provider that includes yours, and then mine data that can be used against you? No warrant necessary.... To trust the U.S. Government, you must be deaf, dumb, and blind, or terminally stupid.
Here is what needs to happen in the 2022 mid-term election...
Absolutely no general mail out ballots for all future federal elections, unless specifically approved, in accordance with the United States Constitution, by the state legislature;
In person only voting or strictly controlled and only requested absentee ballots for the November 8, 2022, election.
America will not survive as a nation of laws if governed by the political party that cheats the best.
Video interview: Dinesh D'Souza: Enough Fraud Was Committed to Steal 2020 Election, Epoch Times, 7 May 2022: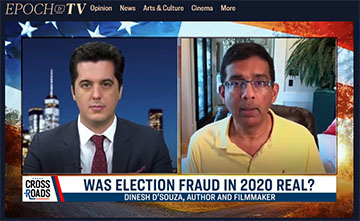 The riveting '2000 Mules' proves there was massive election fraud, by Andrea Widburg, American Thinker, 8 May 2022:
... 2000 Mules begins with the premise that Trump voters have found it impossible to believe that Trump lost the election. When they contrast his campaign appearances (60,000 screaming fans) with Biden's campaign appearances (6 vaguely animated lumps sitting in little circles); the bellwether states showing Trump winning by a large margin; the significant gains Trump made with Hispanics and Blacks; the millions of votes Trump gained over the four years of his presidency; and the mysterious overnight counting shut-down in the states that ultimately gave Biden his "victory," they know that something is wrong.
The folks at True the Vote also suspected that something was wrong, very wrong. The founder, Catherine Engelbrecht, working with Gregg Philips and a team of computer analysts, came up with a very clever way to determine whether there was fraud. They suspected it, thanks to the way in which Democrats in key states used COVID as an excuse to increase absentee voting... there had been massive ballot harvesting....
To prove this theory, True the Vote obtained geo-tracking information for major urban areas in Pennsylvania, Michigan, Wisconsin, Georgia, and Arizona, allowing them to follow cell phone signals. They marked all the drop boxes and all the facilities for left-wing non-profits. They then looked for cell phones that traveled between the non-profits and drop boxes at least ten times (to be sure to winnow out statistical noise). Through FOIA requests, they also obtained as many videos as they could showing people stuffing multiple ballots into the drop boxes, a completely illegal act.
Their data revealed 2,200 mules in just five cities, visiting between 20 and 45 drop boxes each, at which they dropped off an average of five ballots. When you do the math, the numbers are staggering...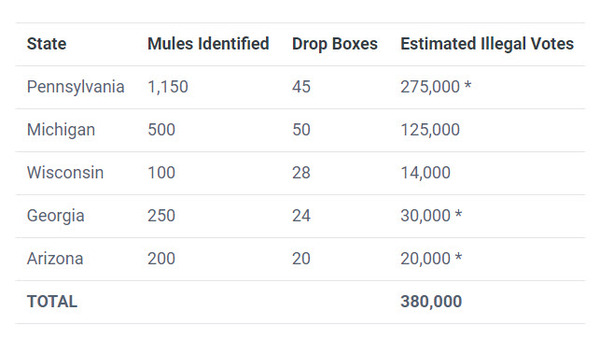 They only get worse when you contemplate the fact that 10 trips per mule is an exceptionally high bar and that these were just mules in five cities....
The movie is clear and competent...
True the Vote Announces They Are Releasing Addresses of ALL Ballot Trafficking Stash Houses, Gateway Pundit, 8 May 2022:
According to the evidence discussed in the movie, if you factor in just the Mule ballot traffickers: Trump won with 305 electoral votes. That does not even count all the other fraud that occurred during the election like the mysterious ballot drops at 3 in the morning or the questionable machines.
In April, TPUSA founder Charlie Kirk went on with Joe Hoft on 93.3 FM to discuss the movie.  Kirk, who is featured in the film, said this about the evidence collected for the film, "They saw that some of these mules would visit these drop boxes every night. And then go to Stacey Abrams' headquarters and then go back to the drop boxes....
In Less Than 12 Hours, "2000 Mules" Grosses More Than One Million Dollars on Locals and Rumble, Rumble, 9 May 2022.
Ballot Mules Funded by Obama-Linked NGOs Who Poured Billions Into 'Local Insurgencies': Analyst, Truth Tent 19 May 2022. 
Catherine Engelbrecht Joins Tucker To Discuss The Groundbreaking Technology Behind "2000 Mules": TruthTent, 19 May 2022.
A conversation with Dinesh D'Souza about his documentary, 2000 Mules, American Mind, 20 May 2022.
The Fraud that Dare Not Speak its Name, by Hans von Spakovsky, American Mind, 1 June 2022.
 
Related
Election Fraud and the Stolen 2020 Election
How Mark Zuckerberg Rigged the 2020 Election
Your Cell Phone GPS is Tracking Your Every Move, Law Technology Today, 22 June 2017.
Virginia police routinely use secret GPS pings to track people's cell phones, Prince William Times, 6 April 2022.
Cell phone surveillance: tactics, litigation, and next steps, by ;Nicole Valdes Hardin, April 2018.