Ballot busting
Article Body:
This was not just election fraud, it was a coup.
The people who cast the votes decide nothing. The people who count the votes decide everything
- Joseph Stalin
The only thing we did on Election Day was tell them how many votes they needed on Election Night.
pic.twitter.com/lOG2iV4l2e
- Andy Swan (@AndySwan) November 4, 2020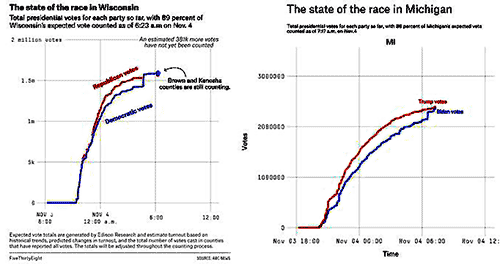 New articles on election fraud, vote by mail ballot fraud, loss, theft, tampering, and sudden discoveries of emergency Democrat votes: Here is a good overview: Everything You Need to Know About 2020 Election Fraud, but the Media Won.t Let You Ask, Stream, December 6, 2020.
See Election Fraud and the Stolen 2020 Election and 2022: The First Wholly Manufactured Election.
Articles and information on election fraud and ballot busting
Voter Registration Charities: A Massive, Overlooked Scandal, by Parker Thayer, American Greatness, 20 September 2023.
Kari Lake Files 74-Page Lawsuit Against Katie Hobbs, Election Officials, Gateway Pundit, 17 September 2023.
Arizona Judge Rules CURRENT Mail-In Ballot Process Unlawful, Violated the Law In Both 2020 & 2022 Elections, Half A Million Ballots Fraudulent. Geller Report, 7 September 2023.
Arizona Judge Defines Voter Registration Record, Rules that Mail-In Ballot Signatures Have Been Compared Illegally, Gateway Pundit, 6 September 2023.
Nationwide Cellular Network Connects Election Equipment and Gives Federal Government Access to Election Systems at the Precinct Level, by Joe Hoft, 14 August 2023/
Massive 2020 Voter Fraud Uncovered in Michigan – Including Estimated "800,000 Ballot Applications Sent to Non-Qualified Voters" – Bags of Pre-Paid Gift Cards, Guns with Silencers, Burner Phones, and a Democrat-Funded Organization with Multiple Temporary Facilities in Several States, Gateway Pundit, 8 August 2023.
The Achilles Heel of Mail-In Ballot Fraud, by Jay Valentine, American Thinker, 24 July 2023.
Michigan Election Interference: The Real Story, American Thinker, 24 July 2023.
Watchdog Sues North Dakota for Counting Ballots After Election Day, Breitbart, 7 July 2023.
A Shocking Analysis of Election Night Reporting and the Companies that Manufacture Election Results, by Joe Hoft, 1 July 2023.
New Evidence Reveals the Biden DOJ Edited Video Footage in Order to Convict Innocent Jan. 6 Trump Supporters and Oath Keepers – And Now They Got Caught, Gateway Pundit, 1 July 2023.
Reminder - The Parliamentary Motive Behind the J6 Fedsurrection, The Last Refuge, 29 June 2023.
Supreme Court decides state legislators do not have unchecked power to set election rules, OAN, 27 June 2023.
1,400 Voters Flagged as Foreign Nationals in North Carolina, Breitbart, 27 June 2023.
2024: How to Out-Compute the Left, by Jay Valentine, American Thinker, 26 June 2023.
Time Is Running Out For Congress And States To Defuse Biden's Election-Takeover Bomb, The Federalist, 23 June 2023.
Whistleblower Transcripts Show Deep-State Election Rigging For Biden Was Way Bigger Than A Laptop, The Federalist, 23 June 2023.
North Carolina Court Corrects Flawed Ruling on Voter ID Law Driven by Ideology, Not Law, Daily Signal, 22 June 2023.
Postal Service Releases Final Report – Contract Driver Jesse Morgan Vindicated – Report CONFIRMS He Hauled Trailer of Ballots from NY to PA in Late October 2020, Gateway Pundit, 5 June 2023.
Jesse Morgan and the 200k Missing Ballots -- an Update, American Thinker, 2 June 2023.
Video: Maricopa County Elections Officials Illegally Break into Sealed Election Machines after they were Certified and Before the Election – Inserting Reprogrammed Memory Card, Gateway Pundit, 29 May 2023.
Catastrophic "Loss of Control" NY Elections: Millions of Invalid Registrations, Hundreds of Thousands of Votes Cast by invalid Registrations, Massive Vote Discrepancies, Clear Algorithmic Patterns, Geller Report, 27 May 2023.
Why Kari Lake Couldn't Close the Deal, by Jay Valentine, American Thinker, 25 May 2023.
Former Deputy National Security Adviser: FBI, DOJ, CIA Planning To Rig 2024 Presidential Election, Geller Report, 24 May 2023.
Hundreds of Thousands of Non-Citizens Plague Pennsylvania, North Carolina, Arizona's Maricopa County, Texas Voter Rolls, Geller Report, 24 May 2023.
Texas Passes Bill to Become the 9th State to Leave ERIC – TX House Passes Vote to Pull Out of Controversial Voter Roll Scheme – Only 23 States Remain, Gateway Pundit, 24 May 2023.
Judge Tosses Kari Lake's Lawsuit After Trial on Fraudulent Signature Verification Shows AT LEAST 274,000 Ballots Were Verified in Less Than 3 Seconds, Gateway Pundit, 23 May 2023.
Az County Supervisors Ordered to Comply With SCR1037 Which Bans Foreign Voting Machines in Arizona, Gateway Pundit, 23 May 2023.
Indiana Adds ID Requirements to Mail-In Voting to Make Process 'As Secure As' Voting in Person, Epoch Times, 20 May 2023.
Shocking Video Shows Maricopa County's Fraudulent Signature Verification – Worker "Verifies" Signatures in LESS THAN 2 Seconds Per Signature, Gateway Pundit, 16 May 2023.
Election Bribery in Wisconsin: Far Left Organization Paid Voters Up To $250 to Flip Wisconsin Supreme Court, Geller Report, 7 April 2023.
Arizona House Joins Senate in Passing Resolution to Ban Foreign Voting Machines and Require Source Code, Ballot Images, Chain of Custody Documents, and Log Files to Be Made Public, Gateway Pundit, 2 April 2023.
Was Massive Vote Fraud Confirmed with a Fishtail?, American Thinker, 27 March 2023.
Another Election System Provider – Tenex Software – Like Knowink – Connects to Internet, Not Certified, Not Audited, Across Numerous States, Gateway Pundit, 26 March 2023.
Uncertified election system used in multiple states - Internet Connected, Uncertified, and Accessible to Numerous Govt Agencies and Outside Entities, Gateway Pundit, 23 March 2023. Use of any uncertified software for this part of the election process is a violation of federal and state law.
Election Integrity Game Changer! Three More States Pull Out of Eric System, by Jim Hoft, Gateway Pundit, 7 March 2023.
1.2 Million Inactive Voters Removed from Los Angeles Voter Rolls, Breitbart, 27 February 2023.
Six Million Americans Are Registered to Vote In Two States, PowerLine, 25 February 2023.
FOX News Filing Shows Dominion Voting Systems Executives Including Eric Coomer Knew Its Voting Systems Had Major Security Issues, Was Hacked, and Was "Riddled with Bugs", Gateway Pundit, 15 February 2023.
US Postal Service Sharing Private Information From 68 Million Households With Democrat Orgs, Could Be Used For Political Campaigning, Geller Report, 15 February 2023.
Maricopa County Tabulation Election Center Had "Heat Map" Showing "Republican Voter Dot Density. In Targeted Attack on Republican Voters, Geller Report, 31 January 2023.
Video: "Nearly 300,000 Ballots In 2022 Would FAIL Signature Verification" – Shelby Busch Discusses Over 1,800 BLANK Ballot Envelopes, Dead Voters, Incorrect Signatures In Maricopa County, Gateway Pundit, 26 January 2023.
In Arizona, bombshell new evidence of Maricopa County election wrongdoing, by Andrea Widburg, American Thinker, 25 January 2023.
Another Election Overturned After Faulty Ballot Tabulation, Geller Report, 21 January 2023.
10.9 Million 2022 Midterm Mail-In Ballots 'Unaccounted For' in California, Geller Report, 21 January 2023.
Wisconsin Special Counsel Finds Zuckerberg's Election Money Violated State Bribery Laws, Geller Report, 17 January 2023.
Colorado Won't Name 31,000 Foreign Citizens It Sent Voter Registration Info, So Counties Have No Idea If They Voted, Federalist, 7 January 2022.
After Telling 31,000 Noncitizens How to Register to Vote, Colorado Kept Information From Local Election Officials, Daily Signal, 5 January 2023.
150,000 Votes in the 2020 Election Not Tied to a Valid Address in Wisconsin: Election Watchdog, Epoch Times, 4 January 2023.
Other resources on election fraud
Numerous sites and blogs are documenting ballot fraud in the 2020 election. Here are a few: