Look for alternatives to PayPal. They will steal $2500 of your money on the pretext that you have the wrong opinions
Article Body: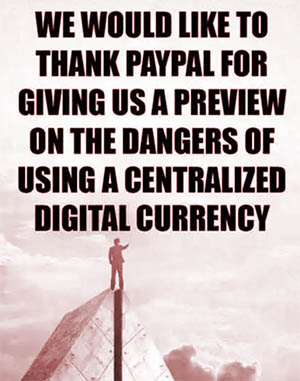 Following a Surge of Online Calls to Close PayPal Account, Several Users are Reporting Closing Issues...
The Gateway Pundit reported on Saturday that PayPal will begin fining users $2,500 directly from their accounts if they are found to be spreading "misinformation" in its newly updated policy.
On September 26th, the financial service announced some changes to certain agreements.
Starting November 3, 2022, PayPal is expanding the existing list of prohibited activities to include the sending, posting, or publication of messages, content, or materials under its Acceptable Use Policy....
The former President of PayPal, David Marcus, blasted the policy — calling it "insanity" because "a private company now gets to decide to take your money if you say something they disagree with." Elon Musk agreed with his comment....
Dinesh D'Souza tweeted: "Stop using PayPal and look for alternatives. They were ready to steal $2500 of your money on the pretext that you have the wrong opinions. Sick bastards! They only backed down because they got busted. Let's bust them some more so the lesson really sinks in!"...
Rep. Lauren Boebert: "Remember that the only reason PayPal won't be fining people $2,500 for "misinformation" is because we spoke up, boycotted them and cancelled our accounts. Do not silently be a player in the game of cancel culture. Fight back."...
Candace Owens urged her followers to make sure they also delete their data when closing their PayPal accounts....
After PayPal Revokes Controversial Misinformation Policy, Major Concerns Remain Over $2,500 Fine, by Emily Mason, Forbes, 27 October 2022:
... A part of PayPal's user agreement that says any customer in violation of the platform's "acceptable use" policy is subject to a $2,500 fine has been in place since at least 2013, according to the website's archive. The fine had largely gone unnoticed until earlier this month when PayPal updated its acceptable use policy to state that messages which are "fraudulent, promote misinformation or are unlawful" are in violation of the policy and, by extension, subject to the fine. The "acceptable use" policy stated that determinations of which messages violated the policy would be made at "PayPal's sole discretion." ...
PayPal's former president David Marcus was among dissenters, posting a tweet objecting to the policy update, which was amplified further when Elon Musk responded "Agreed."
"PayPal's new AUP goes against everything I believe in," Marcus' tweet reads. "A private company now gets to decide to take your money if you say something they disagree with. Insanity."...
The note about misinformation was removed from the acceptable use terms, but the $2,500 penalty for violations remains, causing continued concern....
Today I canceled PayPal and its intolerant, non-inclusive globalist execs, by Leo Hohmann, 31 October 2022:
... now the company has come out of the closet as not only part of the "woke" corporate liberal class, but also part of the global predator class.
After first backing off, PayPal has quietly reinstated a controversial $2,500 fine for users who they deem to be spreading "misinformation."
According to their "acceptable use policy," defining what's truth and what's disinformation is left to the "sole discretion" of PayPal....
After much research, we decided to go with GiveSendGo.com...
The clincher for me, and what made this an easy decision, came after I researched the backgrounds of PayPal's top executives. They are all globalists on board with the Great Reset.
The company's head of Global Public Policy and Research, Usman Ahmed, is a recent graduate of Klaus Schwab's World Economic Forum Young Global Leaders program.
Ahmed is one of 109 Young Global Leaders included in the World Economic Forum's class of 2022.
As we have reported, the WEF is in the business of exploiting global crises — Covid, climate change, the war between Russia and Ukraine — in order to push its "Great Reset" agenda....