Video: Dr. Robert Malone: Closing the Curtain on COVID Theater
Article publisher:
General Dispatch / Whatfinger
Article Body:
Dr. Robert Malone: Closing the Curtain on COVID Theater.
"There is no justification for mandating vaccines for children, full stop," said Dr. Robert Malone, M.D.
Related
Lab accident is 'most likely but least probed' COVID origin, State Dept. memo says, US Right to Know, 28 March 2022.
US Government Paid News Media $1 Billion to Promote Vaccines, Burning Platform, 25 March 2022.
20 questions they don't want to answer, Steve Kirsch, 26 March 2022.
FDA, CDC Guilty of Clinical Malpractice and Scientific Fraud by Inaction and Omission on mRNA Vaccine Safety Warnings, by David Gortler, American Thinker, 29 March 2022.
Dangerous Deceit: CDC Removes 24 Percent of Child COVID-19 Deaths, Thousands of Others, Geller Report, 18 March 2022.
Thousands of Fetal Deaths Recorded After COVID-19 Vaccines that Nobody Wants to Report and that Facebook is Trying Hard to Censor, Conservative Choice Campaign, 14 March, 2022.
How can they explain any of this data?, Steve Kirsch, 18 March, 2022.
EU Medical Agency Warns of Dangerous New Side Effects From Covid 'Vaccines', RAIR Foundation 19 March 2022.
Additional Data Corroborates Excess Deaths Among Millennials Since the Experimental Vaccines Were Mandated – Confirms Covid is Not the Cause, Gateway Pundit, 19 March 2022.
More people died from the vaccine than the placebo… We killed 150K with Vaccine to save 10K lives. Steve Kirsch breaks down the math showing risk/benefit analysis of the mRNA shot:
Military Doctor Attests She was Ordered to Cover Up Wave of Injuries Following COVID-19 Vaccine Regime, Big League Politics, 18 March 2022.
Dr. Harvey Risch: Closing the Curtain on COVID Theater. "It's interesting that there's been a lot of misdirection from what we've seen," Dr. Harvey Risch, M.D., Ph.D., Professor of Epidemiology, Yale School of Public Health and the Yale School of Medicine
800,000 Lives Could Have Been Saved with Ivermectin and HCQ – Dr. Pierre Kory, USA Watchdog / Burning Platform:
CDC/FDA Smoking Gun of Smoking Guns, by Jon Rappoport, Lew Rockwell,10 March 2022.
Video: CDC is now a political arm of the Left – they are now guilty of scientific fraud – this is 'obscene', Dr. Malone fast clip, 7 March 2022.
NIH Deleted Info From Wuhan Lab On Covid-19 Genetic Sequencing, Watchdog FOIA Finds, Zero Hedge, 1 April 2022.
The Mask Problem: Before 2020, nobody even thought they'd be effective against viruses, two years later we have even more evidence that they don't work, and yet public health authorities won't stop promoting them, Euguppius - a plague chronicle, 13 April 2022.
My video call with the WHO this morning - We can't let them get away with this power grab, by Dr Tess Lawrie, MBBCh, PhD​, 13 APril 2022:
... the WHO is proposing a global pandemic agreement that would give it undemocratic rights over every participating nation and its citizens. Put simply, in the event of a 'pandemic', the WHO's constitution would replace every country's constitution. Whether your country's elected government would agree or not, the WHO could impose lockdowns, testing regimes, enforce medical interventions, dictate all public health practice, and much more....
Biggest Lie in World History: There Never Was A Pandemic. The Data Base is Flawed. The Covid Mandates including the Vaccine are Invalid. Global Research, 15 April 2022:
The PCR "Covid-19 Confirmed Cases" are Meaningless. The Multibillion Dollar Antigen and Home Test Project is Fake... The WHO issued its Mea Culpa more than a year ago on January 20, 2021. A few months later, the Centers for Disease Control and Prevention (CDC)  (July 21, 2021) called for the withdrawal of the PCR test as a valid method for detecting and identifying SARS-CoV-2.... As of December, 31 2021, the PCR test is no longer considered valid by the CDC in the U.S.  For more details see: CDC No Longer Recognizes the PCR Test As a Valid Method for Detecting "Confirmed Covid-19 Cases"? The CDC has now firmly acknowledged that the PCR test does not effectively differentiate between Covid-19 and Seasonal Influenza....
In early March 2022 an Intergovernmental Negotiating Body (INB) was established with a mandate to  create "A Pandemic Treaty"... The Pandemic Treaty  is tied into the WHO's QR Verification Code project, which is intent upon creating a global digital data bank of 7.9 billion people. Both initiatives are to be carried out concurrently by  the WHO in liaison with ID2020 and the Gavi Alliance, both of which are funded by the Gates Foundation... According to David Scripac  "A worldwide digital ID system is in the making. [The aim] of the WEF—and of all the central banks [is] to implement a global system in which everyone's personal data will be incorporated into the Central Bank Digital Currency (CBDC) network."...
Cardiologist Says 30 Percent of Vaccinated Pilots Would Fail Health Screenings Due to Vaccine Injuries, American Greatness, 22 April 2022.
21% of Deaths Reported to VAERS After COVID Shots Occurred Within 48 Hours of Vaccination, Via Children's Health Defense, Burning Platform, 23 April 2022.
22 Countries Drop Mask Mandates As Experts Debate Consequences, ZeroHedge, 29 April 2022.
Book: Face Masks In One Lesson - How to never wear a mask again and to do so legitimately, by Allan Stevo, 2020.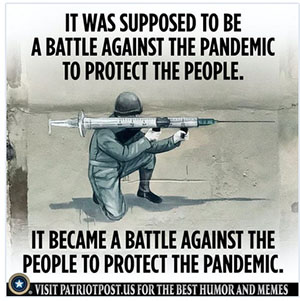 New International Study Buries Cloth Masks as Effectively Useless, Trending Politics, 6 March 2022.
Study Finds 'Positive Correlation' Between Higher Mask Usage And COVID-19 Deaths - Researchers found there may be "harmful unintended consequences" of mask wearing, National Pulse, 16 May 2022.
The Global Failure of Mask Mandates
Compelling Perspectives on Politicization of the China Virus
Time to stop masking the real science.
Social Distancing and the Mask Masquerade
The farcical fallacy of face diapers (face muzzles)
Compelling Perspectives on Politicization of the China Virus.
Wuhan Lab Allowed to Destroy 'Secret Files' Under Its Partnership with US National Lab, Agreement Shows, 21 April 2022.
Dr. Li-Meng Yan Says China Released COVID-19 Intentionally – "THIS IS NOT AN ACCIDENT", Gateway Pundit, 1 May 2022.
Pfizer is running TV ads recommending people take ivermectin, hydroxychloroquine, Z-Pak, and fluvoxamine if they get COVID, Steve Kirsch, 2 May 2022.
Peer Reviewed Study: Masks-Wearing Had No Impact On Spread of Covid in Europe during 2020-21, May Have Increased Mortality, Geller Report, 2 May 2022.
The Vaccine Passport: Gaslighting of an Egregious Kind, by Vasko Kohlmayer, Lew Rockwell, May 7, 2022.
New UK government data shows the COVID vaccines kill more people than they save, by Steve Kirseh, 5 May 2022.
United States D.O.D issued a contract for 'COVID-19 Research' in Ukraine 3 months before COVID-19 officially existed, Geller Report, 20 May 2022.
This Scary Experiment Explains Two Years of COVID Hell, by Vic Hughes, American Thinker, 30 April 2022.