The Bodies of Others
The Bodies of Others is a new book by Dr. Naomi Wolf. In it, Wolf shows how the forces of oligarchical elites, Big Tech, and Big Pharma used the Covid panic to attempt to undermine our Republic and to fundamentally restructure society according to their liking.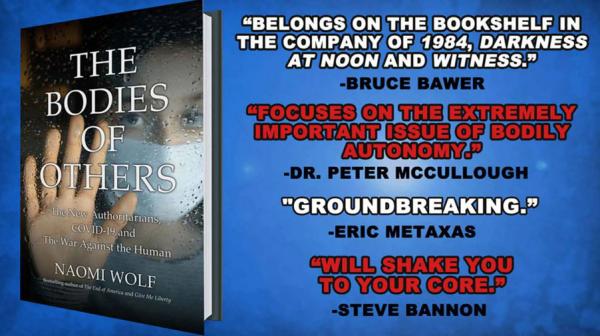 Here is a review of this important book:
The Book of Our Time - Dr. Naomi Wolf delivers the definitive account of the world-scale deceptions, treacheries, follies, and falsehoods of the COVID era, by Bruce Bawer, 15 July 2022. Excerpts follow:
To most of us, it wasn't clear just how serious a threat to our freedoms was posed by our international political, media, corporate, and academic elites until the advent of Donald Trump, whom those elites all instantly recognized as a sincere champion of American freedom and dominance, and thus as a serious threat to them. Faced with the Trump challenge, the elites took off their gloves - and, to a degree, their masks, making it obvious that they hate the Constitution, that they view patriots as "deplorables," that they're using issues like climate and gender as cynical mechanisms of social control, and that they plan a "great reset" that will drag us all (screaming and kicking, if necessary) into a feudal "liberal world order" in which we'll be the subjects of their "global technocracy."...
By the time COVID came along, then, we already had - well, a great many of us had - the measure of these elites.... We knew we could no longer trust the FBI or CIA or NSA; why did we think we could trust the FDA or WHO or CDC? (Or, above all, the WEF, whose chillingly Nazi-like leader, Klaus Schwab, many of us only became acquainted with during the COVID era?) Why did we agree so readily to stay home, shutter our businesses, wear masks, and take brand-new, DNA-altering injections? ...
Why, in short, didn't we react more like - well, more like Americans - to the unconstitutional restrictions on our freedoms...
Who is Naomi Wolf? A longtime leftist, she leapt into the front ranks of third-wave feminism with her 1991 book The Beauty Myth...Wolf knew totalitarianism when she saw it - and, to her immense and everlasting credit, she didn't hesitate to call it as she saw it,...
... Wolf questioned everything, looked into everything, dug and dug and pestered and probed until she was satisfied she had the truth. The result of her bravura efforts is the magnificent, powerful, and immensely important new book The Bodies of Others: The New Authoritarians, COVID-19 and the War against the Human, in which she boldly pulls back the curtain on the arrogance, deceit, condescension, sloppiness, and (her own word) pure evil manifested by the malicious, mendacious masters of lockdown. For example, when Wolf took a deep dive into the data on COVID deaths that was invariably reported as gospel by the mainstream media, she discovered that despite the ubiquitous "follow the science" sloganeering, the data itself was unverifiable, unsourced, unsystematic....
These elites, then, had been laying the groundwork for their lockdown tyranny for a long time.... Other such achievements include Biden's open-border policy and the increasing extension of voting rights to non-citizens, both of which, notes Wolf, are "a tyrant's dream" because they "dilute the power of citizens."...
There is much more of value in Wolf's magnificent book.... Buy it. Read it....
Worth reading: Facing the Beast - Can We Really Confront the Biggest Crime in Human History? by Dr Naomi Wolf, 18 July 2022.
Excerpt from Dr. Naomi Wolf's 'The Bodies of Others', Frontpage Mag, 23 Jul 2022.
Order The Bodies of Others.
Video: Dr. Robert Malone: Closing the Curtain on COVID Theater
Compelling Perspectives on Politicization of the China Virus